The Iraqi Foreign Ministry said today the new rules take effect September 10.
The Syria move is seen as an attempt by the Arab state to reduce the flow of more than 30,000 Iraqi refugees every month. But it remains unclear how it will affect Iraqis seeking refugee status.
Earlier today, the head of the UN refugee agency praised Syria and Jordan for taking in fleeing Iraqis, and urged the international community to show its solidarity by providing more support.
Antonio Guterres, the United Nations High Commissioner for Refugees, also highlighted the need to separate regional politics -- especially regarding Syria -- from the humanitarian problem at hand.
Jordan and Syria host the largest percentage of the more than 2 million Iraqis who have fled abroad.
This week, the United States said it would increase its support by $30 million to countries hosting Iraqi refugees.
(AP, AFP)

Iraq's Refugee Crisis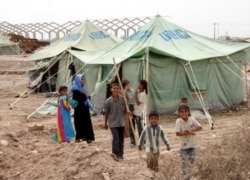 Children at an Iraqi camp for displaced people outside Al-Nasiriyah in May 2006
REFUGEES FLEE SECTARIAN VIOLENCE The UN High Commissioner for Refugees has estimated that over 2 million Iraqis have fled sectarian violence for Jordan, Syria and other neighboring states, while an equal number may be internally displaced within Iraq..... (more)
RELATED ARTICLES
Neighboring States Call For Help With Refugees
Refugees Under Pressure in Syria, Jordan, Lebanon
Displacements Upset Religious, Ethnic Communities
Official Says Refugees To Get New Passports Soon