Rights activists have objected to the move, saying it deprives them of their rights and undermines the Kazakh legal system.
Some of the 12 reportedly had ties to the
People's Congress of Kurdistan (Kongra-Gel), an outlawed group labeled
by the Kazakh authorities as a separatist terrorist organization since
2004.
RFE/RL's Kazakh Service quoted authorities as saying the men are among an estimated 40 people who left the country illegally between 1995 and 1999 and joined extremist groups in Iran, Iraq, Syria, and Turkey.
About half of those illegal emigres eventually returned to Kazakhstan.
Ninel Fokina, who heads the Almaty office of the International Helsinki Federation for Human Rights, told RFE/RL that individuals suspected of crimes should be tried in courts, not have their citizenship revoked by security officials.
"Even for committing the most horrible, wildest crimes -- brutal murder, treason, or terrorism -- people should be held responsible before the law and according to the law," Fokina says. "But no one has the right to take away someone's citizenship."
Fokina says that the men have a right to appeal to reinstate their citizenships.
Islam And Politics In Central Asia
Islam And Politics In Central Asia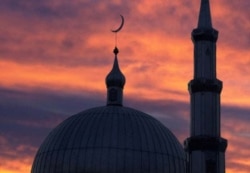 The Khodji Mashrab Mosque in Dushanbe (TASS file photo)
ACTIVISTS AND AUTOCRATS: Eric McGlinchey, assistant professor of government and politics at George Mason University, told an RFE/RL briefing that Islam-centered political movements present the most coherent challenge to autocratic governments in Central Asia.
LISTEN
Listen to the entire briefing (about 60 minutes):

Real Audio
Windows Media
RELATED ARTICLES
Central Asian Security Services Take On Religious Dissent
Family, Followers Reject 'Terrorist' Claims Against Slain Cleric
Hizb Ut-Tahrir's Calls For Islamic State Find Support
Imam Extends Welcome To Hizb Ut-Tahrir

A thematic webpage devoted to issues of religious tolerance in RFE/RL's broadcast region and around the globe.