He also says they fail to appreciate Iraq's achievements.
Two opposition Democratic U.S. senators, Carl Levin (Michigan) and presidential hopeful Hillary Clinton (New York), recently called for al-Maliki to be replaced, urging Iraqi lawmakers to choose someone else to lead Iraq's ruling coalition and seek national reconciliation.
More recently, news emerged on September 1 of a draft report by the U.S. Embassy in Iraq that says al-Maliki's government is plagued by corruption and has quashed investigations of its political allies.
A U.S. National Public Radio (NPR) broadcast, citing the report, said al-Maliki's government was failing to stop officials from committing fraud and that some ministries were seen as untouchable because of their political connections. NPR said the report was sensitive but not classified.
The embassy said the report was still in draft form and there were questions about the reliability of some sources.
GAO Report Due
Two leading U.S. newspapers have quoted a draft of a separate report on Iraq as saying that Baghdad has not met most of the 18 goals set by the U.S. Congress for progress in Iraq.
The U.S. General Accounting Office (GAO) is due to issue a report to Congress on September 4 as Congress struggles to hold the White House to benchmark goals since the addition of 30,000 more U.S. troops this year.
"The New York Times" and "The Washington Post" have reported that a draft of that GAO report said Baghdad had failed to meet most of the 18 goals set by the U.S. Congress for progress in Iraq.
Meanwhile, Australian Prime Minister John Howard announced today that his country will keep its troops in Iraq. Speaking to reporters in Sydney, he said that "it's very difficult times for the U.S." and it is necessary to show solidarity with Washington as one of Australia's key allies. There are 1,500 Australian troops in Iraq.
(AP, AFP)
Nuri al-Maliki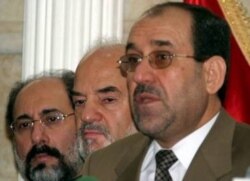 Nuri al-Maliki (epa)

NURI KAMIL AL-MALIKI (Jawad al-Maliki is a nom de guerre) was born in 1950 in the Twayrij al-Hindiyah district of Karbala.
Commonly known as Abu Isra, al-Maliki joined the Islamic Al-Da'wah Party in 1968.
He holds an M.A. in Koran and Arabic Language Studies from Salah al-Din University in Irbil.
Following a crackdown on outlawed parties by the regime of Saddam Hussien, al-Maliki fled the country in 1980, seeking asylum first in Iran and later in Syria.
While in Syria, he also published a magazine -- "Al-Mawqif" ("The Attitude") -- that became the mouthpiece of the Islamic Al-Da'wah Party.
For several years, al-Maliki served as the head of jihad and military operations for the party, subsequently becoming a member of its political bureau.
Following the liberation of Iraq, he served as deputy director of the de-Ba'athification commission established by the Coalition Provisional Authority.
In 2004, al-Maliki was elected deputy speaker of the interim National Assembly.
He played a leading role in settling the August 2004 crisis in Al-Najaf when supporters of Shi'ite cleric Muqtada al-Sadr battled coalition forces for three weeks.
In 2005, he served as chairman of the transitional National Assembly's Security and Defense Committee. He was also a member of the committe responsible for drafting Iraq's new constitution.
He has also served as a spokesman for transitional Prime Minister Ibrahim al-Ja'fari and as spokesman for the United Iraqi Alliance.
More about al-Maliki:
Premier-Designate Promises Tough Approach
Tough Challenges Face New Prime Minister


THE COMPLETE PICTURE: Click on the image to view RFE/RL's complete coverage of events in Iraq and that country's ongoing transition.