Speaking at the first day of classes at the Moscow State Institute for International Relations (MGIMO), Lavrov said Russia's foreign partners "must realize" that Moscow "is not trying to bargain."
He told potential future policymakers that global security depends first and foremost on balance. And Russia, Lavrov stressed, was prepared to continue what he called its "balancing role" in world affairs.
"There's only one formula for balance in international affairs, and that is peaceful coexistence, reliance on international law, collective security, and the political and diplomatic settlement of conflicts," Lavrov said.
'Balancing Role'
"These basic principles are founded in the UN Charter," he added. "Russia will continue to play a balancing role in global affairs. It will never be party to any new Holy Alliance against anyone."
Part of Russia's balancing role, Lavrov said, is its refusal to cross the "red line" on two key issues -- U.S. missile defense and Kosovo.
Russia and its ally Serbia oppose a UN plan to give Kosovo a
form of supervised independence
from Belgrade.
Moscow has also
strongly objected to U.S. plans
to host parts of a missile-defense shield in Poland and the Czech Republic, saying the plans are a threat to its security.
'Trilateral Framework'
The Russian foreign minister urged better Euro-Atlantic interaction to resolve such issues.
"Trilateral mutual understanding" between the United States, the European Union, and Russia would benefit dialogue on both Kosovo and missile defense, he said.
Lavrov did not limit his proposed partnerships to Euro-Atlantic links, however.
He also stressed Moscow's burgeoning three-way ties with India and China, as well as its deepening interaction with groups like the Organization of the Islamic Conference, the Arab League, and the Shanghai Cooperation Organization.
Lavrov said the world is facing threats that "cannot be personalized or associated with specific states."
Moscow And Washington: Toe To Toe
Moscow And Washington: Toe To Toe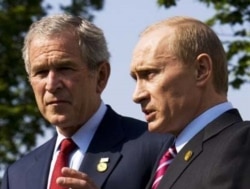 U.S. President George W. Bush (left) and Russian President Vladimir Putin at the G8 summit in Germany on June 7 (AFP)

MOUNTING TENSIONS. Relations between Russia and the United States have grown increasingly tense in recent months as issues like missile-defense, Kosovo's status, and Russia's domestic policies have provoked sharp, public differences. On June 5, U.S. President George W. Bush said democratic reforms in Russia have been "derailed"....(more)
RELATED ARTICLES
Silent Diplomacy Versus Public Criticism
Analysts Say New Arms Race Unlikely
Moscow's Patience With U.S., Allies 'Wearing Thin'
Russian Parliament Accuses U.S. Of Election Meddling
MORE: A special archive of RFE/RL's coverage of U.S.-Russian relations.