Former U.S. Senator Sam Nunn and Senator Richard Lugar today called for further debate between Moscow and Washington on the Strategic Arms Reduction Treaty (START), which is due to expire in 2009.
The senators are the authors of the Cooperative Threat Reduction Program, known as the Nunn-Lugar, which was signed into U.S. law in 1992. The program aims to dismantle stockpiles of nuclear, biological, and chemical weapons in the former Soviet Union. To date the program has decommissioned more than 2,000 intercontinental missiles, 1,000 missile launchers, and 7,000 nuclear warheads.
New START Needed
Today's debate marked the 15th anniversary of the Nunn-Lugar program. Lugar, a republican from the state of Indiana, is a member of the Senate's Foreign Relations Committee.
"The current Russian-American relationship is complicated enough
without introducing more elements of uncertainty into the nuclear
relationship." -- Lugar

"While we have much to be proud of, we should not think of this anniversary as only a time of mutual congratulation," he said. "Rather, it should be a time to highlight the new steps that must be taken to consolidate the gains we have made, and to launch initiatives necessary to meet new proliferation challenges. The United States-Russia relationship is critical to the security and prosperity of the international community."
He urged the Russian and U.S. presidents to work on new areas of cooperation on weapons of mass destruction and called for the two governments to extend elements of the START treaty.
"Weapons of mass destruction remain the No. 1 national-security threat to the United States and to Russia," Lugar said. "Strong cooperation in addressing these common threats provides a foundation for broader cooperation. Success in this area would be a critical boost to international security and put the United States-Russian relationship on a firmer footing that would enhance the prospects of solutions in other areas."
New Agreement Instead?
The U.S. administration has indicated it does not plan to extend START in 2009: it says it wants to replace it with a more relevant agreement. Russian President Vladimir Putin too has called for negotiations on a new treaty.
Vladimir Orlov, the director of the Center for Policy Studies in Russia, says he sees little chance that START will form the basis of a new or revised agreement:
"Strengthening the START treaty process, either in the form of extending its time limits or in writing another treaty based on START, I believe is a very important task," Orlov says. "To be realistic, I have to say that the U.S. administration is not that interested in activating dialogue on a START process, and so we will have to unfortunately wait until a new administration [is] in the White House."
Risks Of No Agreement
Participants in the debate warned of the dangers of allowing the nuclear pact to lapse at a time when U.S.-Russian relations are at their most strained for more than a decade.
Earlier this year, Russia reacted angrily to U.S. plans to deploy parts of a missile-defense shield in Central Europe. More recently, Moscow suspended its participation in a key arms treaty, the Conventional Forces in Europe Treaty, in protest at what it sees as a NATO arms buildup in Europe.
Lugar called for discussion at the most senior levels. "The current Russian-American relationship is complicated enough without introducing more elements of uncertainty into the nuclear relationship," he said. "Negotiating a legally binding regime is a challenging and time-consuming affair, but it is well worth the effort."
Meanwhile, former Georgian Senator Nunn, who is currently co-chairman of the Nuclear Threat Initiative, appealed to the U.S. administration to consider Putin's offer of sharing information from a Russian-run radar station in Azerbaijan.
Moscow And Washington: Toe To Toe
Moscow And Washington: Toe To Toe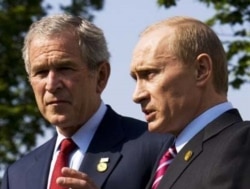 U.S. President George W. Bush (left) and Russian President Vladimir Putin at the G8 summit in Germany on June 7 (AFP)

MOUNTING TENSIONS. Relations between Russia and the United States have grown increasingly tense in recent months as issues like missile-defense, Kosovo's status, and Russia's domestic policies have provoked sharp, public differences. On June 5, U.S. President George W. Bush said democratic reforms in Russia have been "derailed"....(more)
RELATED ARTICLES
Silent Diplomacy Versus Public Criticism
Analysts Say New Arms Race Unlikely
Moscow's Patience With U.S., Allies 'Wearing Thin'
Russian Parliament Accuses U.S. Of Election Meddling
MORE: A special archive of RFE/RL's coverage of U.S.-Russian relations.