Western news agencies quote Syrian officials as saying only Iraqis belonging to the economic, commercial, and scientific sectors will be authorized to enter Syria.
The move is to take effect on September 10.
Iraqis could previously turn up at any Syrian border point and be automatically issued a three-month visa. Under the new decree, visas can be issued only to those "belonging to the economic, commercial and scientific sectors" by Syrian embassies abroad.
The United Nations High Commissioner for Refugees estimates that the number of Iraqi refugees in Syria is rising by 30,000 a month.
Syria hosts the bulk of more than 2 million Iraqis who have fled violence in their home country. Some 750,000 of them are in Jordan.
Officials in Jordan have also announced plans to impose visa requirements on Iraqis, but have not said when the regime will begin.
(AFP, Reuters)
Iraq's Refugee Crisis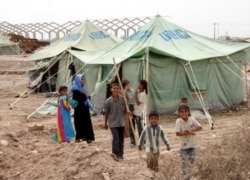 Children at an Iraqi camp for displaced people outside Al-Nasiriyah in May 2006
REFUGEES FLEE SECTARIAN VIOLENCE The UN High Commissioner for Refugees has estimated that over 2 million Iraqis have fled sectarian violence for Jordan, Syria and other neighboring states, while an equal number may be internally displaced within Iraq..... (more)
RELATED ARTICLES
Neighboring States Call For Help With Refugees
Refugees Under Pressure in Syria, Jordan, Lebanon
Displacements Upset Religious, Ethnic Communities
Official Says Refugees To Get New Passports Soon