Death Sentence Upheld For 'Chemical Ali'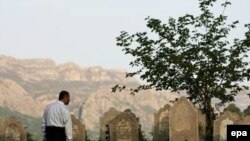 A Kurdish man at a memorial to some of those killed during the Anfal campaign (file) (epa) September 4, 2007 -- An Iraqi appeals court has confirmed the death sentence against Saddam Hussein's cousin, widely known as "Chemical Ali," for his role in the poison-gas massacre of Kurds in the 1980s.
The Iraqi High Tribunal also upheld the death sentence against two other former Hussein aides, Sultan Hashim al-Tai and Hussein Rashid al-Tikriti.
The sentences must be carried out within 30 days in line with Iraqi law.
Ali Hasan al-Majid and his codefendants were convicted in June of genocide, war crimes, and crimes against humanity for their role in 1988 Anfal military campaign when more than 180,000 Kurds were killed.
All three are currently on trial for their alleged roles in crushing a Shi'ite uprising in southern Iraq in 1991, but the charges against them will be dropped once they have been executed.
(compiled from agency reports)

SUBSCRIBE For weekly news and analysis on Iraq by e-mail,
subscribe to "RFE/RL Iraq Report."