The activists, all members of the Youth Front (Malady Front) opposition movement, were detained by special police forces while rallying outside a courthouse in the city of Salihorsk.
RFE/RL's Belarus Service reports that 12 of the detainees are to be released, but three are being held indefinitely.
The activists had been protesting the trial of a fellow Youth Front member, 16-year-old Ivan Shyla.
Shyla, whose trial started today, is charged with acting on behalf of an unregistered organization. As a minor, the maximum sentence he faces is six months in jail.
Today's incident followed the overnight detention of four other activists outside the Salihorsk court. They were released after several hours.
In total, more than 50 opposition and human rights campaigners attended the start of Shyla's trial, including representatives of the Belarus Helsinki Committee, Vyasna, and the United Civic Party.
Other Activists On Trial, In Prison
The trial of a second Youth Front activist was held today in the Belarusian city of Nyasvizh. Like Shyla, 25-year-old Nasta Azarka was charged with ties to an unregistered organization. She was found guilty and fined the equivalent of $600.
Azarka's conviction brings to eight the number of Youth Front campaigners who have been found guilty of ties to an unregistered organization or "malicious hooliganism." That includes Youth Front leader Zmitser Dashkevich, who in November 2006 was sentenced to 1 1/2 years in prison.
Yet another campaigner, Yaraslau Kryshchenya, is due to stand trial on September 10 in the city of Baranavichy.
The trials of Shyla and Azarka come as a former Youth Front leader, Pavel Sevyarynets, was released today from prison after completing a 15-day sentence on charges of violating the law on meetings and mass gatherings.
Sevyarynets had been arrested along with 28 youth activists during a reading of his recently published books in Brest, in southwestern Belarus. Several of them attended today's trials.
The human rights watchdog Amnesty International on August 22 voiced concern over what it described as a "clampdown" on Belarusian youth activists. Amnesty International accused the Belarusian government of seeking to "intimidate and obstruct youth activists, and civil society as a whole, from exercising their rights to freedom of assembly, association and expression."

Politics In Belarus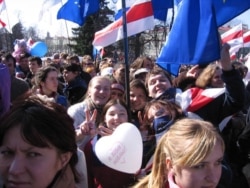 Demonstrators in Minsk on March 25 (RFE/RL)

WHAT HAPPENED? Belarus scholar Vitali Silitski and RFE/RL Belarus analyst Jan Maksymiuk took a look a how Belarus has changed since mass demonstrations in Minsk in March 2006 failed to produce meaningful change in that country.
LISTEN
Listen to the entire briefing (about 70 minutes):

Real Audio
Windows Media
RELATED ARTICLES
Has Regime Adopted New Tactics Toward Opposition?
Lukashenka Is Firmly In His Saddle, Despite A Bumpier Road
Why Can't Belarus's Opposition Just Get Along?
SUBSCRIBE
For weekly news and analysis on Belarus, Ukraine, and Moldova by e-mail,
subscribe to "RFE/RL Belarus, Ukraine, And Moldova Report."