To oversee its image makeover, the Russian state-owned gas monopoly has hired three international public relations firms, all members of the Omnicom Group, a U.S. communications company, to replace PBN, its former PR firm. Two of the newly hired companies are already working with the Kremlin, advising Russia's leadership on relations with the West.
The cost of the contract is somewhere in the range of $11 million, according to the Russian daily "Kommersant."
Nontransparent Image
Gazprom's image problems date back to Viktor Chernomyrdin's leadership of the company following the collapse of the Soviet Union.
His close relationship with President Boris Yeltsin was instrumental in getting the company special status with generous tax benefits, and set the groundwork for making Gazprom a "state within a state."
Under Chernomyrdin's leadership a corporate culture that rewarded opaqueness set in, spawning Gazprom's reputation as a company that operated outside the law.
After Chernomyrdin was succeeded by Rem Viakherev, Gazprom was implicated in a number of corruption schemes. In one, the gas giant was accused of involving its fully-owned insurance company, Sogaz, in insurance scams that served to enrich Gazprom's top management. Western reinsurance companies largely bore the financial losses from these schemes.
Gazprom's most controversial era began in 2001, with the arrival of Aleksei Miller as Russian President Vladimir Putin's hand-picked CEO of the company. A colleague of Putin's in the St. Petersburg governor's office during Yeltsin's presidency, Miller was in good standing with the future president and with other city officials who would soon reach high positions in the Kremlin. Among them was Valery Golubev, a former KGB agent who recently became the deputy head of Gazprom's management committee.
Following Miller's appointment, Gazprom executives conceived a new scheme to transport Turkmen gas to Ukraine.
With Miller's and Putin's approval, they created a Budapest-based company named Eural Trans Gas, which began acting as the middleman for Turkmen gas exports to Ukraine. The opaque company soon became the subject of a number of investigative reports in the Western media.
The negative publicity Eural Trans Gas generated forced Putin and then-Ukrainian President Leonid Kuchma to dissolve Eural in July 2004 and replace it with a similar company called RosUkrEnergo headquartered in Switzerland.
Gazprom later came under severe criticism for its handling of a gas-pricing dispute with Ukraine in January 2006 when, with great fanfare, Gazprom briefly shut down the pipeline carrying supplies to Ukraine -- and inadvertently to Europe. Many in the West saw Gazprom acting at the behest of the Kremlin, which, many claimed, was taking its revenge on the newly elected, pro-Western Ukrainian President Viktor Yushchenko and his Orange Coalition.
During the Ukrainian election campaign of 2005 Putin had lobbied vigorously in support of pro-Moscow Viktor Yanukovych's bid for the presidency. This raised suspicions that by pressuring Yushchenko on gas prices in January 2006, Putin was underscoring the vital impact Russia has on Ukraine's economy. Many in Kyiv saw Gazprom and Putin's actions as blackmail.
Western observers became alarmed when Gazprom insisted that Ukraine give up its sovereign right to buy gas directly from Turkmenistan and do so only through the services of the mysterious RosUkrEnergo, controlled by Gazprom.
However, the worst publicity for Gazprom was generated by a series of questionable deals presided over by the Kremlin -- the apparent goal of which was to bring under its direct control most of the country's oil and gas industry.
Beginning with the questionable license revisions for Western oil companies developing the Sakhalin 1 project and followed by the ouster of BP/TNK from the Kovykta gas field, Gazprom benefited enormously.
Whitewashing Attempt?
Any attempt to polish -- or whitewash, as the case might be -- Gazprom's image will not be an easy task given the company's reputation as a bully and the cumulative effect of years of nontransparency.
A major problem facing the Western PR companies is that Gazprom's corporate culture does not tolerate any inquiries about the company's business from outsiders.
A recent incident highlights the tensions that exist between Gazprom and the West and the measures the state will take to silence criticism.
Hermitage Capital Management, one of the largest private investment firms in Russia, has long been critical of Gazprom's opaque dealings and had prepared reports outlining examples of what it believed to be its fiscal irresponsibility and suspect practices. In 2006, Hermitage head William Browder was forbidden entry into Russia on the basis that he was a "threat" to Russian national security.
But the real reason behind the new PR effort appears to be the need to create a new image not only for a company, but for Russia itself. Putin's efforts to restore Russia's pride and position in the world have often led his administration to resort to methods reminiscent of the Cold War. A curtailing of democratic rights, foul play against domestic and foreign critics, and the use of energy resources as a weapon -- all these charges have hounded Putin and his administration throughout his eight years in power.
It is feasible that in the last months of his second and final term, Putin wants to go the extra distance to help his successor inherit a Russia and a Gazprom that are perceived as conforming to Western standards of governance and transparency.
This should not be confused with an onset of good governance or a change in Gazprom's role as a shadowy state within a state. It is entirely possible that the PR effort is merely a cosmetic facelift.
Whether a new Russian president will insist that the PR campaign be matched by a move toward greater openness and responsible practices by Gazprom -- not to mention abandoning the use of gas as a tool of foreign policy -- remains to be seen.
Russia And Global Energy Security
Russia And Global Energy Security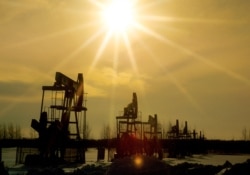 An oil field in Russia's Republic of Bashkortostan (TASS file photo)


ENERGY SECURITY is increasingly moving to the top of the EU's agenda in its dealings the outside world. A recent report identifies the European Union's main energy objectives as not just securing gas and oil deliveries from Russia, but also ensuring that it has reliable alternative sources, including in Central Asia. Nonetheless, EU officials say relations with Russia take center-stage in their thinking....(more)
RELATED ARTICLES
EU Maintains Codependent Energy Relationship With Russia
Turkmenistan: The Achilles' Heel Of European Energy Security
U.S. Official Urges Reforms In Energy-Producing Countries
ARCHIVE
A
complete archive
of RFE/RL's coverage of energy issues in the Caspian Sea region and Russia.