Two firefights reportedly took place on September 4 in the Azerbaijani districts of Fizuli and Agdam, which are next to Nagorno-Karabakh and have been occupied by Armenian forces since 1993.
"That did happen. One of our soldiers was injured in Agdam district, the second one in Fizuli, when Armenian forces fired our positions on September 4," RFE/RL's Azerbaijani Service quoted Verdiyev as saying.
"Then both of them died in the hospital," he added. "Osmanov Mukhtar, born in 1988, was injured in Agdam, Ismail Huseynov, born in 1988, in Fizuli. In both cases our forces fired back and Armenians lost two of their soldiers in Agdam, one in Fuzuli."
Officials in the unrecognized Nagorno-Karabakh Republic have denied the reports.
Senor Hasratyan, a spokesman for the self-proclaimed Nagorno-Karabakh Republic Defense Ministry, told RFE/RL's Armenian Service that the "information about the shooting and victims does not correspond to reality."
OSCE Talks Continue
The reports of the shooting come one day after the U.S., Russian, and French co-chairs of the OSCE Minsk Group held separate talks with Azerbaijani Foreign Minister Elmar Mammadyarov and Armenian Foreign Minister Vartan Oskanian in Brussels. The Minsk Group is tasked with mediating a solution to the Karabakh conflict.
The mediators will visit Armenia and Azerbaijan early next week in an attempt to revitalize the Karabakh peace process.
Nagorno-Karabakh, an enclave inside Azerbaijan, has a predominantly ethnic-Armenian population.
Armenian forces seized control of the enclave from Azerbaijan in a war in the early 1990s, which claimed an estimated 30,000 lives. A cease-fire was signed in 1994, but the two countries have failed to negotiate a settlement on the region's status.
A Precarious Balance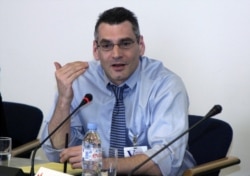 Richard Giragosian at RFE/RL on May 25 (RFE/RL)
SECURITY SLIPPING AWAY?
: On May 25, RFE/RL's Prague broadcasting center hosted a talk by
RICHARD GIRAGOSIAN
titled, "The Military Balance In The South Caucasus And Nagorno-Karabakh." Giragosian, a Washington-based analyst of international relations in the former Soviet Union, concentrated on the military balance between Armenia and Azerbaijan as the two countries continue to increase defense spending. Girogosian argued that corruption is the main threat to the national security of both countries. He also commented on other security issues in the South Caucasus, Iran, elsewhere.
LISTEN
Listen to the entire briefing (about 60 minutes):
Real Audio
Windows Media
Selected Articles By Richard Giragosian:
Nagorno-Karabakh: Peace May Depend On Military Situation
Georgia: Gas Cutoff Highlights National Security Flaws
Azerbaijan: Has Government Taken A Troubling Example From Andijon?
ARCHIVE
For an archive of RFE/RL's coverage of Nagorno-Karabakh, click here.

SUBSCRIBE
For weekly news and in-depth analysis on Armenia, Azerbaijan, Georgia, and Russia's North Caucasus by e-mail, subscribe to "RFE/RL Caucasus Report."