Miomir Zuzul, the personal representative of OSCE Chairman in Office Miguel Angel Moratinos, today said the organization believes the incident took place, but does not want to lay blame.
"I can say that there was an incident on August 6 and that that incident created a very dangerous situation and certainly influenced relations between Russia and Georgia," Zuzul said.
He added, however, that the mission of the OSCE was not that of a "prosecutor" or "judge."
Georgia claims that a military jet illegally entered its airspace from Russia and dropped a missile before flying back to Russia. The missile landed in a field near Georgia's border with its breakaway region of South Ossetia, but did not explode.
Russia has denied that any aircraft crossed from Russian to Georgian airspace on August 6, and has called Georgia's claims a "provocation."
Zuzul, the former foreign minister of Croatia, was appointed in mid-August to consult with Georgian and Russian officials on the incident.
He also spoke to members of two international teams and one Russian team that conducted separate investigations of the incident.
Zuzul said the findings of the investigative teams all differed, and that it was "extremely difficult" to know what in fact had happened.
International expert have come to the conclusion that a plane flying from Russia did violate Georgia's national airspace, but they have not identified the aircraft.
Russia's experts, in turn, claim Georgian authorities fabricated the evidence they presented to the international community. Moscow has also objected to the fact that both foreign investigative teams -- which comprised experts from the United States, Latvia, Lithuania, Sweden, Britain, Estonia, and Poland -- were selected unilaterally by Georgia and that their findings could not be considered objective.
Zuzul said that, instead of setting up yet another fact-finding mission to look into the August 6 incident, the OSCE should explore ways to prevent further such mishaps, or create a mechanism that would allow it to promptly defuse tensions resulting from similar incidents.
The latest statement comes amid a season of unremitting resentment between Tbilisi and Moscow.
Following the August 6 incident, Georgia accused Russia of allowing another fighter jet to twice violate Georgian airspace on August 21.
Most recently, Russia's FSB internal security service said Russian border guards this week killed two armed men who tried to cross from Georgia to Russia's North Caucasus republic of Karachayevo-Cherkessia.
The FSB claims both men were carrying automatic weapons and explosives, and that the Russian border guards opened fire only when the men resisted arrest. The FSB also claimed one of the slain individuals was the head of an Islamic militant group in Karachayevo-Cherkessia.
Georgian officials have rejected the possibility that anyone could have crossed the border from territory under Georgian control, saying the incident may have taken place in an area controlled by Georgia's breakaway region of Abkhazia.
The majority of Karachayevo-Cherkessia's border separates it from Abkhazia, although a part extends to a mountainous region under Georgian control.

Dueling Investigations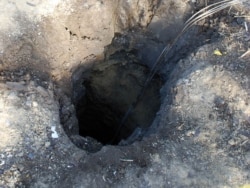 A crater at the site where a missile landed near the village of Tsitelubani (InterPressNews)
There have been three investigations into the August 6 incident, in which Georgia claims Russia dropped a missile on its territory. Russia denies the allegations.
1. Defense specialists from the United States, Sweden, Latvia, and Lithuania concluded on August 15 that an aircraft had entered Georgian airspace from Russia and dropped a missile. They said the plane flew from Russian to Georgian airspace and back three times. The experts described the missile as a Russian-designed KH-58, which is intended to take out radar systems. The team added that Georgia's air force "does not possess aircraft equipped with or able to launch" that missile. (Read the full report here)
2. A group of experts from Britain, Poland, and Estonia on August 22 corroborated the results of the first investigation. The experts said that a military jet illegally entered Georgian air space from Russia and dropped or jettisoned a missile before flying back to Russia. (Read the full report here)
3. A team of experts from Russia dismissed on August 17 the findings of the first investigation. The experts said that no aircraft violated Georgian airspace from Russia and suggested that Georgia might have planted the missile itself. (Read a transcript of authors' press conference here)