Serbian Foreign Minister Vuk Jeremic told London's "Financial Times" that Serbia would not threaten military action, although he said a declaration of independence by Kosovo would open a "Pandora's box" in the region.

Jeremic said that Serbia would not "contribute to the destabilization of the province by physical, military, or security means."

But in comments published the same day in the "International Herald Tribune," Serbia's state secretary for Kosovo, Dusan Prorokovic, said that Serbia is ready to use force -- and would also consider closing the borders and a trade embargo.

Avni Arifi, an adviser to Kosovar Prime Minister Agim Ceku, said such comments were just rhetoric.

"The Kosovar government does not take such statements seriously, but then again, such a statement proves a lot of things," he said. "First of all, it proves that in Serbia, unfortunately, there have been no democratic changes since the era of the previous regime. The changes are fewer than originally thought. It is simply the rhetoric of a regime that has caused so much suffering and violence in the region. At the same time, it proves that the platform, or the basis upon which Serbia's government intends to build the future of the Balkans and security in the region."
And Serbian Defense Minister Dragan Sutanovic said that Prorokovic's comments did not reflect the government's position.
"I cannot understand politicians who are ready to send troops at any time and I believe that the time when we using other people's kids to [fight] wars is long gone. I don't think that Mr. Prorokovic is representing the Serbian government with his statements," Sutanovic said.
"I believe that it may be his party's policy and that it is not a statement based on government policy. On the other hand, it is hard to predict what will be our political response in case of the unilateral recognition of Kosovo, but I do not expect that Serbia on its own is likely to consider any military solution."
RFE/RL Balkan analyst Patrick Moore says the disconnect could be due to differing factions within the Serbian government.

Negotiations Continue

The next round of talks between Kosovar and Serbian leaders, overseen by Russia, the EU, and the United States, is expected to begin on September 18.

The UN has imposed a deadline of December 10 for the completion of the talks.

Moore says that the recent comments by Serbian officials are likely just bluster.

"I see a lot of this as part of a very elaborate bargaining exercise," he says. "Serbia's writ has not run in Kosovo since 1999. Most of their politicians know, quite frankly, that they've lost it [Kosovo] -- that it's not theirs to lose anymore, in fact. So what we're seeing is a huge theater being played out."

Many observers and officials involved in the talks have said an agreement is unlikely. Earlier this year, a plan authored by UN envoy Martti Ahtisaari proposed "internationally supervised independence" for Kosovo.

But Russian opposition to that plan prompted a fresh round of negotiations.

Empty Threats?

Some Western leaders have expressed fears that a declaration of independence -- or the threat of Serbian force -- could lead to fresh bloodshed in the region.

Around 17,000 NATO troops are currently based in Kosovo. NATO troops forced the Serbian military to withdraw from Kosovo in 1999 after a 78-day bombing campaign. Since then, the UN has administered the province, which has a majority ethnic-Albanian population.

Analyst Moore believes the Serbs are unlikely to use force.

"They would be stark raving mad if they tried it and I think that they know this," he says. "There are NATO troops there that are armed to the hilt, some of the best fighting forces in the world, and they were able to put paid to [former Yugoslav President Slobodan] Milosevic's troops in 1999 and they could certainly make short work of this present military."

Serbia is no doubt aware of such a possibility. But with the pressure likely to increase in the run-up to the December deadline, more bellicose rhetoric from both sides is to be expected.

Final Status For Kosovo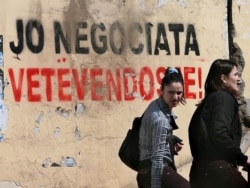 Pro-independence graffiti in Prishtina (epa)

FINALLY STATUS? Sabine Freizer, director of the Crisis Group's Europe Program, told an RFE/RL briefing that deep divisions in the UN Security Council make it uncertain what form Kosovo's future status might take.
LISTEN
Listen to the entire briefing (about 70 minutes):

Real Audio
Windows Media
ARCHIVE
RFE/RL's coverage of
Kosovo
. The website of
RFE/RL's South Slavic and Albanian Language Service
.