Authorities said the weapons were seized "recently" in Herat's westernmost Ghurian district. They did not specify when the seizure was made.
It also remains unclear when the weapons were hidden. It also was not immediately known whether the cache was stashed by Taliban militants or by one of several rival militia factions in Herat Province.
Munitions experts in the U.S. military were studying the cache today.
Much Of Cache Appears New
RFE/RL's Radio Free Afghanistan correspondent in Herat also viewed the cache today after Afghan border police had spread them across a large plot of land.
The cache includes land mines still packed in their transport cases, as well as rocket-propelled-grenade launchers, assault rifles, and a large supply of ammunition.
Some mortar rounds and larger-caliber artillery shells appeared to be new -- still wrapped in protective packaging and stored in wooden munitions boxes.
Many of the rocket-propelled grenades in the cache were still sealed in protective wrapping and wooden boxes. But some rounds were unwrapped, battered, and rusty -- suggesting they were older and had been carried by militia fighters or militants.
Afghan Deputy Interior Minister General Munir Mangal told Radio Free Afghanistan that a resident of Herat Province had informed authorities about the cache.
Mangal says Afghan authorities are still investigating. "Time is needed to assess this discovery," he said. "The team that works in this regard is working on the issue, and the result will be announced soon."
Source Of Cache Unclear
General Ramatullah Safai, the commander of the Afghan National Army's 6th Brigade in Herat, told Radio Free Afghanistan that he thinks the weapons could have been brought to Herat by "opportunists" who want to damage relations between the governments of Afghanistan and Iran.
In the past, smaller caches of Iranian-made land mines and other weapons found in western Afghanistan have been linked to the Taliban. Safai had in the past accused the Iranian government of supplying land mines to the Taliban.
But the Iranian government denies any role in supplying weapons or ammunition to the Taliban.
Both the Afghan and U.S. governments have said they were unable to determine whether previously discovered caches of Iranian-made weapons had been shipped to Afghanistan with the knowledge of the Iranian government, or if they were purchased by the Taliban from Iranian criminal groups or smugglers.
Britain's Foreign Office says it has seized Chinese-made rockets and antiaircraft weaponry from Taliban fighters that British Royal Marines have captured in the southern province of Helmand.
Chinese officials say they are investigating those discoveries to determine how they got into the hands of Taliban fighters in Afghanistan.
(RFE/RL's Radio Free Afghanistan correspondent Sharaf Stanikzai in Herat and Asmatullah Sarwar in Prague, and RFE/RL correspondent Ron Synovitz contributed to this story.)
Afghanistan And Iran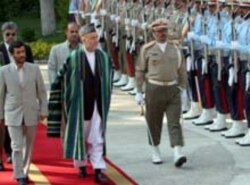 Afghan President Hamid Karzai being greeted in Tehran in May 2006 (epa)


TEHRAN PLAYS ITS HAND. RFE/RL analyst Amin Tarzi led a discussion on the role Afghanistan may play in the delicate diplomatic game being played by Iran and the United States. Tarzi outlined ways in which Tehran might be flexing its muscle to show Washington that it can destabilize its neighbor.
LISTEN
Listen to the entire briefing (about 70 minutes):

Real Audio
Windows Media
ARCHIVE
RFE/RL's complete coverage of
Afghanistan
and
Iran
.


UPDATED CONSTANTLY: Visit RFE/RL's Persian-language website, featuring news, analysis, features, streaming audio, and more, in Persian, from Radio Farda.