Much of the analysis of the party positioning as the Duma campaign was officially launched this week focused on who would feature at the top of the party lists for the pro-Kremlin Unified Russia and A Just Russia parties. If the two seeming front-runners at this point -- First Deputy Prime Minister Sergei Ivanov or First Deputy Prime Minister Dmitry Medvedev -- agreed to (or, more appropriately, were ordered to) participate in the Duma campaign under the banner of one or another party, analysts say, it would be a strong indicator of the prevalent Kremlin thinking about March. President Vladimir Putin is expected to address Unified Russia's pre-election congress in October (he addressed a similar gathering in September 2003), and it is possible he could make a surprise announcement then about the party's slate of candidates.
Possible Surprise Candidate
On the other hand, Putin in June threw wide open the speculation on successors when he told foreign journalists that "some governor might get elected." Although this sort of statement might easily be dismissed as posturing for international consumption, it corresponded with other indications from administration officials that the field of candidates is far from limited to two -- and that a surprise is likely in the offing. At the same gathering, Putin described his successor as "a decent and honest person with a high level of professional qualities and work experience who has proven himself well and positively either in a region or at the federal level," "Kommersant-Vlast" reported.
The succession process, however, must be managed carefully. Putin's personal approval ratings across Russia remain staggeringly high and that popularity is a major political asset that the Kremlin planners must manage and leverage. However, opinion polls show the public less wholehearted in its views of much of the platform that has come to be called "Putinism." According to a poll issued this week by the All-Russia Center for the Study of Public Opinion (VTsIOM), 56 percent of respondents favor increasing the role for the state in the economy, while 51 percent support Putin's efforts to boost Russia's position in the international arena.
But when it comes to the so-called vertical of power, or the centralization of political power within the Kremlin, public support is much weaker. Of course, much depends on the exact phrasing of the question, but the poll reported that just 26 percent of respondents back increasing centralization, while 30 percent urge increased democratization, transparent elections, and independent media.
Political analyst Dmitry Oreshkin told "Vedomosti" that that 30 percent could grow to 50 percent within two or three years if the government is ineffective. However, it seems even more likely that the proportion of dissenters could grow in the next few months as the Duma campaign unfolds if Kremlin manipulation of the process is too heavy-handed.
Return Of Putin?
The Renaissance Capital investment group recently issued a report entitled, "The Russian Elections: The Investors' Manual," by economist Yekaterina Malofeyeva. The report lays out two possible models for the 2008 presidential transition.
If the Kremlin decides the main goal is to maintain the status quo, then the most likely successors to President Putin are Prime Minister Mikhail Fradkov, St. Petersburg Governor Valentina Matviyenko, and Deputy Prime Minister Sergei Naryshkin, it argues. These candidates are most suitable because they have no known affiliations with business or political groupings and are most likely to receive consensus support.
If, on the other hand, the Kremlin seeks someone who will create an active economic policy, the leading candidates are Russian Railways head Vladimir Yakunin or presidential envoy to the Southern Federal District Dmitry Kozak. These candidates, Malofeyev argues, are most capable of using Putin's strong vertical of power to push forward with state-centered economic development.
Malofeyeva argues that in any event the main tasks of the next president will be to balance the interests of the country's leading business and political interests, protect the interests of Kremlin-connected businesspeople, and find an acceptable post-presidential role for Putin. She says the selection of a status-quo president could signal that Putin plans to return to the Kremlin in 2012.
Asked to comment on the Renaissance report, political commentator Dmitry Badovsky of the Institute of Social Systems told "Vedomosti" on September 6 that a status-quo president is almost certain since he believes Putin intends to return to power in 2012. However, he said the "pause" between Putin terms could be filled by some unpopular but necessary reforms that must be carried out in a way that does not harm Putin's personal popularity.
Analyst Alexander Rahr, however, told the daily that Putin himself most likely favors a more aggressive approach that would maintain the momentum of Putinism, especially regarding the expansion of the state's role in the economy. Rahr predicted that Sergei Ivanov, whom he described as "Putin's clone," will be the most likely successor.
Russia Beyond 2008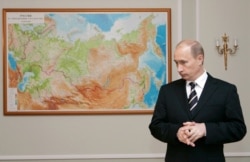 President Putin is mulling his political future (epa)

THE 2008 QUESTION: President Vladimir Putin's second term of office ends in the spring of 2008. Since the Russian Constitution bars him from seeking a third consecutive term, this event threatens to present a crisis in a country that has a history of managed power transitions. Already, Russian politics are dominated by the ominous 2008 question.
RFE/RL's Washington office hosted a briefing to discuss the prospects of Putin seeking a third term. The featured speakers were RFE/RL Communications Director Don Jensen and political scientist Peter Reddaway of George Washington University.
LISTEN
Listen to Don Jensen's presentation (about 16 minutes):
Real Audio
Windows Media
LISTEN
Listen to Peter Reddaway's presentation (about 35 minutes):
Real Audio
Windows Media
RELATED ARTICLES
Will Putin Pursue Third Term, Or Will It Pursue Him?
Could Yakunin Be 'First-Called' As Putin's Successor?
Putin Again Says He Won't Run For Third Term But Will 'Work' For Russia
Interview: Former Premier Kasyanov Warns Of Political Crisis
Former Premier Kasyanov Announces Run For President
ARCHIVE
RFE/RL's English-language
coverage of Russia
.

SUBSCRIBE
For news and analysis on Russia by e-mail,
subscribe to "RFE/RL Russia Report."