The Kremlin announced that Putin set the date for the election to the State Duma, the lower house of parliament, in a signed decree.
RFE/RL's Russian Service reported that campaigning will open for the Duma's 450 seats once the decree is published in the official press.
The head of Russia's Central Election Commission, Vladimir Churov, told the media on September 1 that the decree must be published within five days after it is signed.
Deputies are elected to the State Duma under a proportional system.
To qualify for parliamentary representation, parties must receive support of at least 7 percent. The parliamentary threshold was raised in 2006 from a previous 5 percent. At that time, the requirement of a minimum voter turnout was also abolished.
The changes are widely regarded as favoring pro-Kremlin parties.
Churov said that at this moment there are 15 parties listed in Russia.
However, according to recent independent polls, only four parties are likely to do well in the Duma elections, given the new rules.
They include the pro-Putin groups Unified Russia and A Just Russia. The other two are the Communist Party and the Liberal Democratic Party of Vladimir Zhirinovsky.
More than 107 million voters are registered for the legislative elections.
The Duma vote will be followed by Russia's presidential election on March 9, with Putin's second term scheduled to end shortly afterward.
(with additional agency reports)
Russia Beyond 2008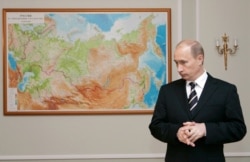 President Putin is mulling his political future (epa)

THE 2008 QUESTION: President Vladimir Putin's second term of office ends in the spring of 2008. Since the Russian Constitution bars him from seeking a third consecutive term, this event threatens to present a crisis in a country that has a history of managed power transitions. Already, Russian politics are dominated by the ominous 2008 question.
RFE/RL's Washington office hosted a briefing to discuss the prospects of Putin seeking a third term. The featured speakers were RFE/RL Communications Director Don Jensen and political scientist Peter Reddaway of George Washington University.
LISTEN
Listen to Don Jensen's presentation (about 16 minutes):
Real Audio
Windows Media
LISTEN
Listen to Peter Reddaway's presentation (about 35 minutes):
Real Audio
Windows Media
RELATED ARTICLES
Will Putin Pursue Third Term, Or Will It Pursue Him?
Could Yakunin Be 'First-Called' As Putin's Successor?
Putin Again Says He Won't Run For Third Term But Will 'Work' For Russia
Interview: Former Premier Kasyanov Warns Of Political Crisis
Former Premier Kasyanov Announces Run For President
ARCHIVE
RFE/RL's English-language
coverage of Russia
.

SUBSCRIBE
For news and analysis on Russia by e-mail,
subscribe to "RFE/RL Russia Report."