Some 10,000 young Russians have converged on the shores of Lake Seliger in Tver Oblast, some 350 kilometers northwest of Moscow. They come from 50 different regions and represent a wide variety of political and social concerns.
But when it comes to "our choice," the distinctions fade away. This is the annual summer camp organized by the pro-Kremlin youth movement Nashi (Our Own), and for its young participants, there is only one choice -- Vladimir Putin.
"I respect him," says Svetlana Shirokova, a Nashi activist at the two-week retreat. "He's simply a real man."
Asked whether the incumbent deserves a third term when his mandate expires in 2008, Shirokova says, "Of course! I'd really like him to be president."
And if he leaves after his constitutionally prescribed two-term limit, as he has vowed? "We'll look for a person who will continue the course laid by Putin."
Work, Play, And Political Awareness
The Nashi camp is the biggest and fastest-growing of the country's political youth retreats, but it isn't the only one. In Moscow Oblast, on the Oka River, organizers from the youth group Mestniye (The Locals) are staging a similar event for more than 1,000 of its members.
"This is first and foremost an educational camp," says Maria Shapovalova, the press secretary for Mestniye. "The kids will hear lectures on psychology, rhetoric, geopolitics, and contemporary Russian history."
One Nashi member credits Vladimir Putin with establishing a sense of stability. Whoever comes next, he says, will only pick up where Putin left off.
Scheduled lecturers include Moscow Oblast Governor Boris Gromov, film director Nikita Mikhalkov, and Olympic cross-country ski champion Larisa Lazutina.
It's not all work and no play for Mestniye campers. Athletic competitions are among the diversions on offer, as is a preelection game in which participants can hone their understanding of the electoral system before they're asked to head to the ballot box for the State Duma vote in December and the presidential ballot in March 2008.
"They'll be divided into two groups," Shapovalova says. "One group will be the various parties campaigning for votes. And the other group are the voters, who will choose who deserves most to win. We're preparing these guys for the upcoming ballots, because it's their civil right to vote."
Mestniye officially focuses on politics in Moscow Oblast, rather than at the federal level. Organizers profess to be uninterested in which candidates their members choose to support.
"Unfortunately, young people don't vote. They're inactive," Shapovalova says. "We're calling on them to play their part in civil society and vote. They don't have to be voting for someone concrete."
Investing In The Future
Youth groups like Nashi, Mestniye, and Molodaya gvardia (Young Guard) are all believed to have strong financial and administrative support from the government.
They are notorious for their frequent use of in-your-face tactics, like Nashi's noisy disruption of a press conference held by the Estonian ambassador in May, at a time when Russia was deeply angered by Tallinn's decision to relocate a Soviet-era war memorial.
Russia's political opposition supports its own youth groups, as well. Ilya Yashin, the head of Yabloko's youth wing, takes a dim view of the competition.
Caricatures of opposition politicians Mikhail Kasyanov and Garry Kasparov are on display at this year's camp. (TASS)"All of the Kremlin youth organizations in reality have two functions," Yashin says. "The first is to demonstrate massive youth support for the president and the acting parties of power. The second is the organization of mass programs meant to prevent a Ukraine-style 'Orange' scenario from unfolding in our country."
According to Moscow-based political analyst Vladimir Pribylovsky, the massive scale of this year's summer retreats -- the Nashi camp has more than tripled in size since 2005 -- is a clear response to the political season ahead.
Still, for all the resources and attention, he says, many of those on retreat are thinking more about personal goals than political ones.
"For the leaders, these movements to a large degree are nothing more than a parceling out of money -- from the state, from the budget, and especially from prominent businessmen acting at the behest of the presidential administration," Pribylovsky says.
Those material concerns are shared by many youth group members as well, he adds. "The participants aren't taking on any ideology. For them it's an instrument for a career."

2008 And Beyond

The priorities of the Kremlin and the youth groups it supports may not always converge, but for now they operate in comfortable parallel. As Nashi and other groups gain in number and experience, however, that delicate balance may change.

"These games may ultimately create problems for the powers that be," says Yashin of the Yabloko youth group. "These kids are being promised they're set to become the future political elite. In reality, it's perfectly clear that the current elite has absolutely no intention of giving up their places to the people who are gathering at summer camps run by Kremlin youth groups."
"Young people don't vote. They're inactive. We're calling on them to play their part in civil society and vote. They don't have to be voting for someone concrete."
Yashin adds: "There are quite a few of these young people. They've been taught to organize demonstrations. If a serious leader rises from their ranks, it's going to be a big problem for whoever's running the government after 2008."

Back at Lake Seliger, activists like Aliana, a young woman from Volgograd, are using the organizational savvy they're picking up at the Nashi camp to fight for concerns they personally hold dear.

Aliana, standing under a sign that reads "A City Without Orphanages," says she wants to create a social-support network for families that will help keep more children at home and out of child-care institutions.

And that's just part of Aliana's plan for tackling one of Putin's pet concerns -- Russia's demographic crisis.

"I want to adopt," she says. "I'll definitely adopt a child from an orphanage. But I also want to have three of my own. It all depends on what the future will be like."

Is There Life After Putin?
Other camp participants are more bullish on the future. One, Mikhail, credits Putin with establishing a sense of stability in the country. Whoever comes next, he says, will only pick up where Putin left off.

And who is likely to get his vote? The man Mikhail considers the next best thing to Putin himself -- First Deputy Prime Minister Sergei Ivanov. "He's an honest person, and someone who holds the same moral values that Putin has already instilled in the minds of many Russians."

"People are going to make a hero out of Ivanov if he wins," Mikhail adds. "He should be even better than Putin. People are already thinking this way."
Reporter's Notebook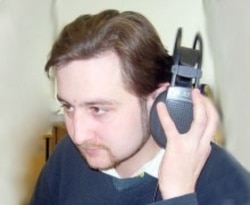 WHATEVER IT TAKES:
Nashi organizers on July 17 opened the Lake Seliger campgrounds to a busload of accredited journalists. A number of journalists failed to receive accreditation, including RFE/RL Russian Service correspondent Maksim Yaroshevsky. Yaroshevsky describes how he and his colleagues made their own way to the camp:
The director of Nashi's press service initially told me that there were no places on the bus. Then she said that the list of accredited journalists had already been sent, and that it was too late to add any new names.
Ilya Barabanov of "Novoye vremya" and Mikhail Romanov of "Moskovsky komsomolets" were in the same situation. So we set out on our own that night, and by the morning of July 17 we were in the town of Ostashkov in Tver Oblast.
Nikolai Lyaskin, the head of the Smena (Change) opposition youth group, was with us. We asked the locals about the best way to get to the camp by water. It was difficult to get into the camp by land, because it was being heavily guarded. But no one had thought to guard the lake front.
We rented a boat for 70 rubles an hour, leaving a passport as a deposit, and crossed over to the shores of the Nashi camp. There were no guards in sight and it was relatively easy for us to wander off in different directions through the camp.
In the course of half an hour, I had already managed to speak to a dozen Nashi activists. Some of the other "illegal" journalists weren't so lucky.
Barabanov and Romanov were approached almost immediately by men in camouflage who insisted they leave the camp at once. The head of Nashi, Vasily Yakimenko, appeared and announced that the presence of unaccredited journalists on the premises of the camp was strictly forbidden.
My colleagues argued that this violated their rights under Russian media law, but Yakimenko was unconvinced, and within 10 minutes Barabanov, Romanov, and Lyaskin had all been thrown out of the camp.
No one appeared to have any regrets about the experience. "Yakimenko has refused to accredit me for a single event in the past two years," Romanov told me afterward. "We've simply been forced into conducting our own special operations."
Nashi is planning a second press tour on July 23, but it's not likely the accreditation process will be any less selective.