This year's elections will be the first held under the country's much-amended election laws. All 450 deputies will be elected from party lists according to a proportional-representation system; electoral blocs are banned; parties must receive at least 7 percent of the vote in order to gain seats; there is no minimum voter turnout required to validate the poll; and the option of voting "against all" candidates has been eliminated.
The entire election process is taking place under the shadow of Putin's enormous personal popularity.
In order to participate in the elections, parties must either submit 200,000 valid signatures in support of their list of candidates or pay a deposit of 60 million rubles ($2.34 million). Deposits are returned after the poll to all parties that garner at least 4 percent of the vote. Parties with seats in the current Duma -- Unified Russia, the Communist Party, the Liberal Democratic Party of Russia (LDPR), and A Just Russia/Rodina -- are exempt from collecting signatures or paying the deposit.
The two pro-Kremlin parties, Unified Russia and A Just Russia, begin the race with formidable advantages. According to "Vedomosti," Unified Russia's war chest amounts to 45 percent of all funds collected by political parties, while A Just Russia is in second place with more than 20 percent of the total. Both parties have already spent heavily in a bid to maximize their positions before campaign-spending limits take effect.
Media Domination
In addition, the two parties enjoy immense political support on the national and local levels, and they predominate in the media. According to research presented by gazeta.ru, Unified Russia featured in more than 6,300 media reports in July, about twice as many as the two runners-up, the Communist Party and A Just Russia. According to the same study, however, A Just Russia leader Sergei Mironov received the most personal media attention, with 1,100 more mentions than his nearest rival, Unified Russia head Boris Gryzlov. The results were particularly skewed with regard to national television, with the opposition Yabloko and Union of Rightist Forces parties featuring as the main figure in zero television reports the entire month.
Predictably, these advantages have given the pro-Kremlin parties a substantial lead in the opinion polls. According to an August survey by the Levada Center, 59 percent of respondents say they will vote for Unified Russia, which would give it 285 Duma seats. Eighteen percent support the Communist Party, giving it 87 seats; 9 percent favor A Just Russia, giving it 44 seats; and 7 percent say they will vote for the LDPR, translating into 34 seats. Yabloko, the Agrarian Party, and the Union of Rightist Forces would fail to gain seats. Unified Russia's 59 percent rating is the highest it has polled so far this year.
As a result, doubts about the competitiveness of the election are widespread. Media commentary in recent days has tended to focus on what a Duma dominated by the pro-Kremlin parties will be like and how the seemingly inevitable victory of those parties will affect the March 2008 presidential poll. An editorial in "Nezavisimaya gazeta" on September 3, however, argued that the Kremlin should strive to ensure a Duma that more fully represents Russia's political spectrum, including representatives of "a market-oriented liberal party."
Opposition Boycott Unlikely
Former Prime Minister Mikhail Kasyanov, who intends to run for president next year, on August 30 called for the opposition to boycott the elections. "Elections under this system will be an imitation of the democratic process rather than a free expression of the will of the people," Kasyanov said, according to "Gazeta." Yabloko and the Union of Rightist Forces both rejected the call and repeated their intention to participate.
Even though election legislation no longer mandates a minimum voter turnout in order to validate the elections, the Kremlin would like to see significant participation. And, so far, surveys indicate the public is taking the elections seriously. The Russian State Service Academy has published research showing that about 50-60 percent of voters will either definitely or probably vote in December.
However, the research found that up to 30 percent of likely voters have not determined for whom they will cast their ballots, and found that their ability to identify or distinguish among the main parties is weak. Voters tend to negatively associate Yabloko and the Union of Rightist forces with the disgraced former oligarchs and with Western nongovernmental foundations, academy researcher Vladimir Boikov told "Nezavisimaya gazeta" on September 4.
Boikov noted that the entire election process is taking place under the shadow of Putin's enormous personal popularity. He argued that Unified Russia would be making a mistake, however, if it relied on its strong association with Putin, rather than building its own base of popular support. The Communist Party of the Soviet Union, he noted, collapsed under its own weight and "no one came out to defend it."
"When a party begins to defend the interests of its own bureaucrats, that party begins to lose its social base," Boikov said. "It might win elections, but that is just a temporary phenomenon. I wouldn't want to see something like that happen with Unified Russia."
Russia Beyond 2008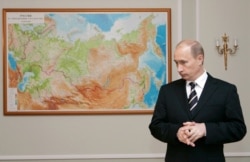 President Putin is mulling his political future (epa)

THE 2008 QUESTION: President Vladimir Putin's second term of office ends in the spring of 2008. Since the Russian Constitution bars him from seeking a third consecutive term, this event threatens to present a crisis in a country that has a history of managed power transitions. Already, Russian politics are dominated by the ominous 2008 question.
RFE/RL's Washington office hosted a briefing to discuss the prospects of Putin seeking a third term. The featured speakers were RFE/RL Communications Director Don Jensen and political scientist Peter Reddaway of George Washington University.
LISTEN
Listen to Don Jensen's presentation (about 16 minutes):
Real Audio
Windows Media
LISTEN
Listen to Peter Reddaway's presentation (about 35 minutes):
Real Audio
Windows Media
RELATED ARTICLES
Will Putin Pursue Third Term, Or Will It Pursue Him?
Could Yakunin Be 'First-Called' As Putin's Successor?
Putin Again Says He Won't Run For Third Term But Will 'Work' For Russia
Interview: Former Premier Kasyanov Warns Of Political Crisis
Former Premier Kasyanov Announces Run For President
ARCHIVE
RFE/RL's English-language
coverage of Russia
.

SUBSCRIBE
For news and analysis on Russia by e-mail,
subscribe to "RFE/RL Russia Report."