Tajikistan: Is President Rahmon's Government Anti-Islamic?
President Emomali Rahmon (file photo) (AFP) September 8, 2007 (RFE/RL) -- More than 300 makeshift mosques have been closed recently by authorities in the Tajik capital, Dushanbe, with some of those sites subsequently turned into beauty salons or police offices. These and other clampdowns follow a government ban on Islamic head scarves -- hejab -- in schools --> /featuresarticle/2007/07/1ed31a8f-492e-4500-aa9f-ac530235cc21.html , compulsory tests for clerics, and a ban on the fundamentalist Mavlavi religious group.
Government scrutiny of mosques and religious activities has intensified all over the predominantly Muslim republic of Tajikistan.
Authorities in the northern Sughd region have set deadlines for the operators of 350 mosques to get proper licenses or face closure.
Registration Hampered By Bureaucracy
In the eastern Vanj district, authorities have banned the fundamentalist Mavlavi Islamic group, whose practitioners have been accused of harassing locals.
Officials in the southern town of Kurgon-teppa have ordered 13 mosques there to present their registration documents to local prosecutors for checking.
"The authorities are worried about the fact that many people gather every evening in mosques. Because when so many people -- from different parts of society -- get together regularly, it is impossible [to imagine] that they would never discuss the country's political, social, and economic issues."
Kalandar Sadriddinov, an imam in a Kurgon-teppa mosque, told RFE/RL's Tajik Service that authorities have introduced a complicated procedure to register mosques. He said operators must get official permission from many offices -- from the fire department to environmental authorities -- before even applying for registration.
"We have to get permission from 12 agencies," said Sadriddinov. "And people in those agencies get suspicious and nervous as soon as you mention 'mosque registration.'"
Sadriddinov said it took him more than seven months to finally register his mosque.
Mosques Converted Into Hair Salons
More than 300 unregistered mosques have been closed down in Dushanbe in the past two months.
The city mayor's office says some of the old makeshift mosques will house hair salons, public baths, or community centers. The office says that there are just 57 registered mosques in the city, which has well over 500,000 inhabitants.
At least two of the unregistered mosque locations have been destroyed.
The mosque destructions were followed in late August by compulsory testing for clerics which resulted in the expulsion of at least four imams who failed to pass the written exams.
Some prominent religious leaders in Tajikistan have criticized the official measures as "anti-Islamic," and warned they could bring public discontent and unpredicted consequences.
But not everyone in Tajikistan shares that view.
Firuz Umarov is an expert on social and religious affairs at a state-run think tank, the Center for Strategic Studies in Dushanbe. Umarov told RFE/RL that the government merely wants mosques to be registered properly, like any other public institution.
Umarov says hundreds of mosques have been built illegally all over the country, and are ignoring basic safety guidelines.
Umarov accused some politicians -- particularly the leaders of Tajikistan's Islamic Renaissance Party (IRP) -- of trying to link "everything" to politics.
"The main reason behind the registration of the mosques is that the government wants all existing rules and laws to be obeyed," said Umarov. "Besides, the land is state property, so they should consult with the authorities before building a mosque on that land. That's the reason behind the registration."
It is believed that there are more than 3,000 mosques in Tajikistan, and authorities say most of them operate without a license.
Fear Of Fundamentalism Or Fear Of Dissent?
Some Tajik experts say the increased scrutiny of mosques and imams is part of a battle against extremism and possible threats to security.
But Hikmatulloh Saifullozoda, the head of the Dushanbe-based think tank Dialog, disagrees. He tells RFE/RL that the authorities tougher stance has nothing to do with any fear of religious extremism or terrorism.
Saifullozoda argues that the Tajik government is simply afraid of any type of regular public gathering, regardless of people's religious beliefs.

"The authorities are worried about the fact that many people gather every evening in mosques," says Saifullozoda. "Because when so many people -- from different parts of society -- get together regularly, it is impossible [to imagine] that they would never discuss the country's political, social, and economic issues."
In Dushanbe, the mosque re-registration and compulsory tests for imams have not been universally criticized, even among clerics themselves.
Many imams regard the measures as insulting and unnecessary. But others have said the government's decision is to some extent "understandable," because imams deal with hundreds -- if not thousands -- of people on a daily basis.
Qori Shamsiddin, the imam of one Dushanbe mosque, says that as many as 4,000 people at a time come to his mosque for prayers.
Many people stay on after evening prayers, listening to their imams' lectures or sermons. Some discuss personal problems with their local imams, or seek other kinds of guidance.
Shamsiddin says it is "a responsible job to be an imam," and he argues that "the authorities have to make sure that only people with the proper education and knowledge get the job."
Islam And Politics In Central Asia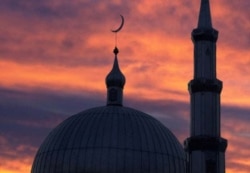 The Khodji Mashrab Mosque in Dushanbe (TASS file photo)
ACTIVISTS AND AUTOCRATS: Eric McGlinchey, assistant professor of government and politics at George Mason University, told an RFE/RL briefing that Islam-centered political movements present the most coherent challenge to autocratic governments in Central Asia.
LISTEN
Listen to the entire briefing (about 60 minutes):

Real Audio
Windows Media
RELATED ARTICLES
Central Asian Security Services Take On Religious Dissent
Family, Followers Reject 'Terrorist' Claims Against Slain Cleric
Hizb Ut-Tahrir's Calls For Islamic State Find Support
Imam Extends Welcome To Hizb Ut-Tahrir

A thematic webpage devoted to issues of religious tolerance in RFE/RL's broadcast region and around the globe.