Tajikistan, which has started a campaign to reregister mosques, has closed and destroyed a number of unregistered places of worship.
The letter, signed by Muhiddin Kabiri, Mohammad Sherif Himmatzoda, and Khodzhi Akbar Turadzhonzoda states that many mosques remain unregistered due to bureaucratic problems.
Two mosques were destroyed last week and many more were closed down in Dushanbe's Sino district for functioning without a license.
There are some 300 mosques in Dushanbe. Most of the buildings are used by local people as community centers for all kind of social gatherings as well as for prayers.
Authorities have been blaming some imams for illegally using these buildings for prayers.
In the latest move placing pressure on religious institutions, authorities in Dushanbe have ordered hundreds of local imams to take a special test of religious knowledge to prove their fitness for the job.
(with material from agency reports)

Islam And Politics In Central Asia
Islam And Politics In Central Asia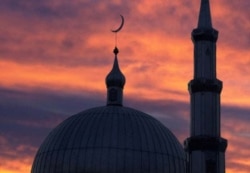 The Khodji Mashrab Mosque in Dushanbe (TASS file photo)
ACTIVISTS AND AUTOCRATS: Eric McGlinchey, assistant professor of government and politics at George Mason University, told an RFE/RL briefing that Islam-centered political movements present the most coherent challenge to autocratic governments in Central Asia.
LISTEN
Listen to the entire briefing (about 60 minutes):

Real Audio
Windows Media
RELATED ARTICLES
Central Asian Security Services Take On Religious Dissent
Family, Followers Reject 'Terrorist' Claims Against Slain Cleric
Hizb Ut-Tahrir's Calls For Islamic State Find Support
Imam Extends Welcome To Hizb Ut-Tahrir

A thematic webpage devoted to issues of religious tolerance in RFE/RL's broadcast region and around the globe.