Under the draft law, only Tajik nationals would be allowed to register or lead religious organizations. The bill also requires a minimum number of registered followers in each district and town.
Representatives of 22 minority religious groups have sent a joint letter of concern to Tajikistan's president, parliament, and State Religious Affairs Committee. The signatories say they fear that approval and implementation of the bill would restrict their religious freedom.
Proposed Bill
The draft would require those seeking to establish a religious organization or build a church or other religious facility to first present authorities with adequate lists of members.
The proposed bill requires at least 400 registered members in districts, 800 in cities, and 1,200 in the capital, Dushanbe, in order to be recognized as a religious organization. Members must disclose personal details that include their identity and sources of income.
Under current Tajik law, minority religious groups need just 10 registered members to allow recognition on a national level.
The bill also would prevent small or unsanctioned religious gatherings or events. Such meetings or ceremonies could only be conducted with at least 200 participants and in coordination with local authorities.
Minority Religions
According to 2003 estimates, 85 percent of Tajikistan's population comprises Sunni Muslims, 5 percent Shi'a Muslims, and the remaining 10 percent profess other religious beliefs.
Reliable figures are difficult to find regarding non-Muslim populations. There are Catholics, Protestants, Jews, Zoroastrians, Bahais, and Buddhists in Tajikistan, but in many areas those groups might not total the minimum requirement of 400 members.
Tajik authorities have neither prohibited nor prevented on any broad scale religious practices of any religion. A Christian resident of Dushanbe tells RFE/RL's Tajik Service that since Tajikistan declared independence from the Soviet Union in 1991, she has never been prevented from attending church or practicing her religion.
Reactions To Draft
Several international and local organizations have condemned the draft law, expressing their concern over government interference in religious practices.
Payam Foroughi, an official with the OSCE in Dushanbe, tells RFE/RL's Tajik Service that the bill would create problems for religious minorities. He says OSCE member Tajikistan has signed on to that multilateral organization's commitments on human rights, freedom of speech and opinion, and the rights of ethnic and religious minorities.
Abdulloh Hakim, a Dushanbe-based expert in religious matters, says if this draft becomes law, it will jeopardize Tajikistan's hard-earned reputation for separating state and religion.
According to some experts and scholars, the current wording of the draft law could theoretically be used to prevent Tajikistan's overwhelmingly Muslim population from practicing its religion.
The nongovernmental Council of the Tajik Islamic Center has also criticized the bill and claimed that some articles contravene the Tajik Constitution. The council has argued that some articles limit freedom of belief and need to be modified or omitted from proposed law.
Ziabeddin Nabatov, a leading member of the Tajik Islamic Center, tells RFE/RL that imposing quotas on the formation of religious organizations will create tension among religious minorities. He says he supports some limits on the activities of non-Muslim religious groups in Tajikistan, however, saying such organizations might exploit the economic needs of poor Muslims in Tajikistan to convert them to their religions.
Michael Abdulrahmonov, an official with Dushanbe's main synagogue, expresses deep concern. He tells RFE/RL that if Tajik lawmakers approve the draft in its current state, religious associations like his synagogue and Christian churches might cease to operate. Abdulrahmonov says that his synagogue has just 350 members.
He argues that existing legislation is sufficiently pluralistic and doesn't prevent any religious organization's activities. But Abdulrahmonov claims that the new draft law disregards the rights of religious minorities. He cautions against requiring personal data on members, such as addresses and affiliations. Abdulrahmonov says the bill has caused concern and fear within Tajikistan's Jewish community.
Tajik experts and intellectuals is interference of the government in religious affairs. Abdulloh Hakim, a Dushanbe based expert in religious matters, says if this draft becomes law, it will jeopardize Tajikistan's good reputation on separation of religion and state.
The Tajik parliament is expected to debate the proposed bill soon.
Islam And Politics In Central Asia
Islam And Politics In Central Asia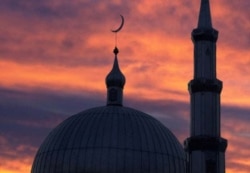 The Khodji Mashrab Mosque in Dushanbe (TASS file photo)
ACTIVISTS AND AUTOCRATS: Eric McGlinchey, assistant professor of government and politics at George Mason University, told an RFE/RL briefing that Islam-centered political movements present the most coherent challenge to autocratic governments in Central Asia.
LISTEN
Listen to the entire briefing (about 60 minutes):

Real Audio
Windows Media
RELATED ARTICLES
Central Asian Security Services Take On Religious Dissent
Family, Followers Reject 'Terrorist' Claims Against Slain Cleric
Hizb Ut-Tahrir's Calls For Islamic State Find Support
Imam Extends Welcome To Hizb Ut-Tahrir

A thematic webpage devoted to issues of religious tolerance in RFE/RL's broadcast region and around the globe.