This week's hottest topic on Live Journal, Russia's most popular Internet forum, was the scaling of a Moscow skyscraper by a French daredevil who calls himself "Spiderman."
Political Debate Not Dead
Running a close second was a heated debate on Russian politics, which, according to the person who started the discussion, are pointless and a waste of time. Hundreds of Live Journal users responded to the posting -- an act some of them said proved that political debate is alive and well.
Masha Lipman, a political expert at the Moscow Carnegie Center, says that web forums like Live Journal provide an arena for free debate that is no longer available in much of the conventional media.
"There is indeed a lot of free exchange on the Internet," Lipman says. "The question in Russia is not that there are no outlets where free expression is possible. The question is that the Kremlin has radically marginalized all outlets that pursue even reasonably independent editorial lines."
Russians are the second-largest group of users of Live Journal, a popular U.S. blogger site. In Russia, the site currently has more than 1.1 million users and 67,500 interest groups. On September 5 alone, 1,600 new users joined Live Journal in Russia and almost 500,000 new comments were posted.
Censorship Impossible?
"Actually, I think the Internet is one of the reasons Russia is still not an authoritarian regime, because you cannot really shut down the Internet without very serious measures," says Yulia Latynina, a political commentator whose columns are frequently posted on Live Journal.
Most Russians get their news and current affairs from three main television channels, all of which are controlled by the government or state-owned enterprises. A handful of independently owned television and radio stations and some of the national newspapers provide some alternative to the Kremlin's view of events.
Earlier this year, President Vladimir Putin created a new government agency to monitor the media and the Internet, sparking fears that sites like Live Journal would be censored. Opposition parties frequently use Live Journal and similar websites to give information about forthcoming political rallies.
Critics say the creation of the agency will allow the Kremlin to stifle opposition voices on websites and introduce Soviet-era controls in the run-up to a parliamentary election in December and a presidential vote next spring.
But Lipman says the way the government approaches sites like Live Journal is more sophisticated:
"The Kremlin has lots of sites under its control, financed by businesses associated with the Kremlin or otherwise, which create an environment in which those more independent ones are easily dissolved," she says. "This dissolution, I think, is one thing that the Kremlin is using to counter or neutralize the potentially stirring effect."
And those Kremlin-backed websites, she says, are often difficult to spot. "It's not that they are necessarily loyal or produce bland propaganda, similar to what you see on television," Lipman says. "They may be critical themselves, but this will be criticism that the Kremlin itself sort of oversees."
But with the number of visitors to Internet forums increasing every day, the appetite for free debate shows no signs of abating.
Iran's 'No Browse' Zone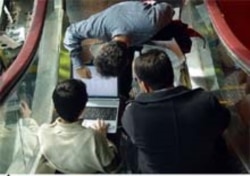 BLOCKED SITES: Iran's state Information Technology Company announced in September 2006 that more than 10 million websites were being "filtered" in Iran. They included the following, organized by category.
Forums, Sharing, and Entertainment:
The Google-owned Internet social network system www.orkut.com
The video-sharing website www.youtube.com
The photo-sharing website and web services www.flickr.com
The Kurdish version of Wikipedia's online encyclopedia www.en.wikipedia.org/wiki/Kurdish
Social and Human Rights:
London-based www.amnesty.org, one of the world's leading human rights defenders
New York-based Human Rights Watch www.hrw.org, also one of the leading human rights defenders in the world
The Paris-based Reporters Without Borders www.rsf.org, a leading media watchdog
The official website of the Tahkim Vahdat Organization, the largest reformist university organization in Iran www.advarnews.us. The group covers news concerning student activism in Persian
The www.gozaar.org website, a monthly Persian-English journal devoted to democracy and human rights
The www.meydaan.com website, a Persian site dedicated to women's rights and activism in Iran
News and Politics:
The Prague- and Washington-based www.radiofarda.com, a joint venture of RFE/RL and VOA covering news in Persian
The Persian service of the London-based BBC www.bbc.co.uk/persian
The Persian service of the Washington-based Voice of America www.voanews.com/persian
The Amsterdam-based www.radiozamaneh.com, which covers news in Persian
The pro Islamic Republic Tehran based www.baztab.ir covering political and social issues
Brussels-based www.gooya.com, featuring articles by journalists and political figures
The Amsterdam-based daily journal www.roozonline.com, which features articles and interviews in Persian and English
Weblogs:
The Google-owned blog publishing system www.blogger.com
The Harvard-based www.globalvoicesonline.org, a blog that summarizes events in the blogosphere in every corner of world
Numerous personal weblogs from around the world, both in Persian and English, with different views and focusing on different subjects including:
www.doomdam.com (satirical blog)
www.kosoof.com (photo blog)
(source: Radio Farda)