The report was presented today in Kyiv by Simon Pirani, an IFJ representative. Pirani said that a change of investigators has resulted in a deterioration of the probe.
Gongadze, an investigative journalist whose articles often targeted the administration of former President Leonid Kuchma, disappeared in September 2000. His decapitated body was discovered in a forest near Kyiv shortly thereafter.
His widow, Myroslava Gongadze, said today that the investigation has been deadlocked for the last year. "I was always dissatisfied with the process of the investigation. Sure, I wanted [them] to do a lot more," she said.
"Nevertheless, there were people who could at least have passed the parts of the case to the court, and it was crucially important," Myroslava Gongadze added. "Those people were very deep into the case and were close to getting a result regarding the orders [of the murder]. Unfortunately, they put aside the investigation process just when they were as close to [finding] a resolution as ever."
The report recommends that the Ukrainian government makes public the priorities of the investigation. It also recommends that criminal cases be launched against those who have blocked the work of investigators.
The authors of the report have also called on the Council of Europe to express concern at officials within the Prosecutor-General's Office and politicians that they say are obstructing the investigation.
The Erosion Of CIS Press Freedom
The Erosion Of CIS Press Freedom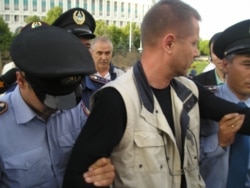 Prominent Kazakh journalist Sergei Duvanov being arrested in Almaty last month (RFE/RL)
FROM BAD TO WORSE. RFE/RL and Freedom House experts held a panel discussion at which they analyzed the erosion of press freedom in many CIS countries. According to Freedom House rankings, in 1994, six of the 12 CIS countries were rated "partly free"; by 2004, 11 of the 12 were rated "not free."
LISTEN
Listen to the entire briefing (about 70 minutes):

Real Audio
Windows Media
SUBSCRIBE
For regular news and analysis on media issues throughout RFE/RL's broadcast area by e-mail,
subscribe to "RFE/RL Media Matters."