But the arrests also show that, following the hotly contested presidential election in March 2006, the ruling regime has considerably marginalized and alienated its opponents. Now Belarusian opposition activists appear to resemble Soviet-era dissidents, rather than competitors in a race for power.
On September 4, a district court in the city of Salihorsk issued an official warning to 16-year-old Ivan Shyla for acting on behalf of the unregistered opposition organization Youth Front. The judge reportedly took into consideration the fact that Shyla is unemployed and a minor, and therefore did not fine or jail him.
"In essence, they jail very few people, but intimidate millions." -- Opposition leader Mikalay Statkevich
The same day, an 18-year-old girl, Nasta Azarka, was tried in the city of Nyasvizh on the same charge as Shyla and fined the equivalent of $600, which is twice as much as the country's official average monthly wage.
Shyla and Azarka were lucky to have gotten off with such light sentences.
In October 2006, Youth Front leader Zmitser Dashkevich was sentenced to 18 months in a correctional institution for being involved in an unregistered organization.
And in August 2006, a district court in Minsk jailed four young people, finding them guilty of running an unregistered organization that "infringes upon the interests and rights of citizens." The four, who wanted to monitor the presidential election on March 19, 2006, were arrested one month before the polls. Mikalay Astreyka was sentenced to two years in jail, Tsimafey Dranchuk to one year, and Enira Branitskaya and Alyaksandr Shalayka to six months each.
Punishments Toned Down
It seems that now, after the wave of opposition protests following the March 2006 presidential election has died down and the opposition are again under strict surveillance and control by the KGB and other law-enforcement bodies, Belarusian judges have been ordered to reduce the severity of punishment for involvement in an unregistered organization.
But the intolerance of the police and the courts toward political protesters continues unabated. During the Shyla trial in Salihorsk, police arrested 11 young people who came to show solidarity with their associate in front of the courthouse. Seven of them were jailed or fined by the same court the following day.
"We have selective repressions. Given that Belarusians are a nation of timid individualists, the authorities strike at the headquarters and the leaders. In essence, they jail very few people, but intimidate millions," opposition leader Mikalay Statkevich, who spent two years in prison in 2005-2007, told the Belarusian independent newspaper "Svaboda" in July.
Moreover, the Justice Ministry remains as adamant as ever with regard to registering opposition-minded organizations. It has already rejected half a dozen registration requests from the Youth Front, always finding some formal irregularities in documents submitted for registration. Confining the Youth Front to its illegal status, of course, makes it easier for law enforcers to pacify its members.
There are also signs that the Justice Ministry, under various formal pretexts, wants to outlaw most opposition parties in Belarus ahead of legislative polls in 2008, in order to make life for oppositionists in Belarus even more difficult.
Opposition Parties Closed
In August, the Justice Ministry suspended the legal status of the opposition Belarusian Party of Communists for three months. The ministry had issued warnings over paperwork irregularities and the party's participation in the founding conference of a Belarusian left-wing alliance, which took place not in Belarus, as required by legislation, but in Ukraine, because the alliance was unable to lease a venue for the conference in its home country.
On September 12, the Supreme Court held a preliminary hearing on a suit by the Justice Ministry to shut down the opposition Women's Party "Hope."
Thus, after pushing out the opposition from parliament in 1996, the regime has now apparently decided to push its opponents outside even the precarious framework of legitimacy they have enjoyed so far.
But even for those parties that don't face closure, their activities in Belarus are now fairly similar to those of Soviet-era dissidents in the 1970s and 1980s.
Belarusian oppositionists are basically allowed to remain free, but the authorities have managed to restrict their influence to the atomized circles of mostly urban intelligentsia that are opposition-minded even without any outside encouragement. As for the overwhelming majority of ordinary Belarusians, they appear to be ignorant not only of the opposition's goals, but also about its very existence.
Failure To Communicate
Such a situation cannot be blamed on the regime's repressive machinery and information blockade alone.
Many critics of the Belarusian opposition point out that its goals and slogans, particularly regarding democratic transformations and European integration, are very far from present-day concerns and expectations of most Belarusians.
Belarusian writer Svyatlana Aleksiyevich told RFE/RL's Belarusian Service earlier this week that she cannot help feeling that the opposition groups "are just clubs for harboring illusions." "The Social Democrats have one illusion, the Communists have another, and the United Civic Party has yet another. In other words, they have no base among ordinary people," she continued. Addressing those parties, Aleksiyevich asked, "Why is there such a gap between you and your own people?"
The hopes that the Belarusian opposition could mobilize wider social support behind former presidential candidate Alyaksandr Milinkevich died at an opposition congress this past May.
Instead of formulating a clear-cut and consistent alternative to the authoritarian rule of President Alyaksandr Lukashenka -- which was particularly vulnerable at that time, following a painful Russian gas price hike at the beginning of 2007 -- the congress spent almost all of its energy squabbling about leadership.
In effect, Milinkevich was dismissed as head of the Political Council of United Pro-democratic Forces, which instead received four co-chairs to please major opposition factions. "The fight for power in the country has been replaced by a fight for power among the opposition," Milinkevich aptly commented on the congress. The social momentum for change generated by the opposition during the March 2006 presidential campaign, not very impressive to begin with, was irretrievably wasted.
On September 12, the Political Council of United Pro-democratic Forces appealed to individuals with no party affiliation to become candidates on the opposition list in next year's parliamentary elections.
Desperate as it looks at first glance, the appeal nevertheless seems to be a reasonable attempt at bridging the gap between the elitist circle of Belarusian opposition politics and society as a whole. At any rate, it makes more sense for the Belarusian opposition to seek understanding among people in its own country than abroad. If they fail to find such understanding this time, they may be called dissidents without any reservations.

Politics In Belarus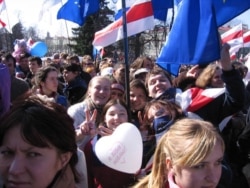 Demonstrators in Minsk on March 25 (RFE/RL)

WHAT HAPPENED? Belarus scholar Vitali Silitski and RFE/RL Belarus analyst Jan Maksymiuk took a look a how Belarus has changed since mass demonstrations in Minsk in March 2006 failed to produce meaningful change in that country.
LISTEN
Listen to the entire briefing (about 70 minutes):

Real Audio
Windows Media
RELATED ARTICLES
Has Regime Adopted New Tactics Toward Opposition?
Lukashenka Is Firmly In His Saddle, Despite A Bumpier Road
Why Can't Belarus's Opposition Just Get Along?
SUBSCRIBE
For weekly news and analysis on Belarus, Ukraine, and Moldova by e-mail,
subscribe to "RFE/RL Belarus, Ukraine, And Moldova Report."