The date marks Belarus' 1990 declaration of sovereignty from the Soviet Union.
Belarusian authorities do not recognize the holiday and have denied permission for a concert to mark the day.
Opposition figures instead plan to meet at a church across from the government building in central Minsk with members of the Belarusian parliament that declared sovereignty in 1990.
Authorities have detained 15 opposition figures in Minsk in the run-up to the day.
A Belarusian court sentenced two opposition leaders to 15 days in jail on July 24 for distributing illegal literature about a future opposition meeting.
Politics In Belarus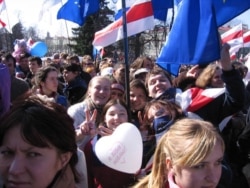 Demonstrators in Minsk on March 25 (RFE/RL)

WHAT HAPPENED? Belarus scholar Vitali Silitski and RFE/RL Belarus analyst Jan Maksymiuk took a look a how Belarus has changed since mass demonstrations in Minsk in March 2006 failed to produce meaningful change in that country.
LISTEN
Listen to the entire briefing (about 70 minutes):

Real Audio
Windows Media
RELATED ARTICLES
Has Regime Adopted New Tactics Toward Opposition?
Lukashenka Is Firmly In His Saddle, Despite A Bumpier Road
Why Can't Belarus's Opposition Just Get Along?
SUBSCRIBE
For weekly news and analysis on Belarus, Ukraine, and Moldova by e-mail,
subscribe to "RFE/RL Belarus, Ukraine, And Moldova Report."