Polish President To Visit Katyn Massacre Site In Russia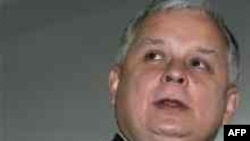 Polish President Lech Kaczynski (AFP) September 16, 2007 -- Polish President Lech Kaczynski on September 17 will visit the Katyn forest in Russia, the site of a World War II-era massacre of Polish officers by Soviet forces.
The visit, Kaczynski's first to Russia since taking office nearly two years ago, comes on the 68th anniversary of the Soviet invasion of Poland.
The president's spokesman said a representative of Russian President Vladimir Putin will receive Kaczynski, but the focus of the visit will be on the massacre site.
(AP)