Russia Seeks Improved Relations With Poland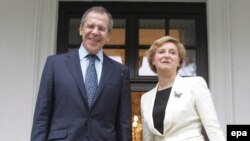 Russian Foreign Minister Lavrov (left) with Polish Foreign Minister Anna Fotyga in Warsaw today (epa) October 5, 2006 -- Russian Foreign Minister Sergei Lavrov said today creating "a good climate" in bilateral relations was the main task facing Russia and Poland.
Lavrov is in Warsaw for talks with Polish officials covering key trade, defense, energy, and historic issues.
Lavrov, speaking after talks with Polish Foreign Minister Anna Fotyga, said Russia wants "transparent" talks on the possible basing of a U.S. missile-defense site in Poland.
Fotyga reiterated Poland's "negative position" to Russian and German plans to build a natural gas pipeline across the Baltic Sea to Germany, bypassing Poland.
The two ministers confirmed the creation of a new joint task force to focus on historic issues, including the 1940 massacre of Polish officers by the Soviets in the Katyn Forest, in western Russia.
Lavrov's visit is seen as laying the ground for a possible summit between the two countries' presidents next year.
(dpa, Interfax, ITAR-TASS)