Katyn Victims' Families To Complain To European Court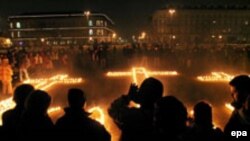 Polish scouts at a vigil on March 5, 2006, in Warsaw in memory of Polish officers killed at Katyn (file photo) (epa) April 21, 2006 -- Families of Polish soldiers massacred by Soviet troops in 1940 will lodge a complaint against Moscow before the European Court of Human Rights in Strasbourg.
They accuse Russia of failing to carry out effective preliminary investigation to find those responsible for the massacre of thousands of Polish officers at Katyn, in western Russia.
Russia's military prosecutor investigated the killings, but in September 2004 closed the case, refusing to acknowledge Katyn as either a war crime or a crime against humanity.
(AFP)

World War II: 60 Years On
A microsite devoted to RFE/RL's coverage of the 60th anniversary of the end of World War II in May 2005.
See also:
60 Years Later, Nagasaki Bomb Witness Is Finally Heard
For One Hiroshima Survivor, A Journey From Hate To Reconciliation