Read his accounts of the challenges faced by ISAF reconstruction teams working in the south -- including locals' suspicion and unease; a helicopter journey where machine-gun bursts barely raise an eyebrow; a Humvee ride where he gets an impromptu training session in handling ammunition; and how ISAF troops and ordinary Afghans live such separate lives that Kabul's bazaars mostly come to ISAF, instead of the other way round.
Part One: A Soviet-Style Welcome
Western travelers unable to take advantage of military means of transportation and obliged to resort to the services of commercial air carriers to reach Afghanistan may be forgiven for not thinking themselves particularly welcome on arrival.
Typically, the trip from any Western European destination to Kabul takes about 24 hours. Mine, originating from Brussels, features stopovers in Vienna (a reasonably pleasant two hours) and Dubai (a hellish logistical nightmare). Once the KamAir flight leaves Dubai, Kabul in midmorning seems a very inviting prospect. Not for long.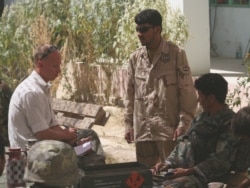 Our correspondent (left) in Uruzgan (RFE/RL)
The frankly Soviet entry formalities (and I speak from experience) quickly sap whatever reserves of goodwill and wanderlust I have retained from the journey. The 20-meter line (actually never less than two intersnaking queues) to the immigration official in his glass cage takes more than an hour. Then, at the very point of being reunited with my luggage -- in what seems like an act of God after the chaos in Dubai -- officials beckon toward another line. In time, the official at the end of this line presents me with a form seeking numerous particulars of my journey, authored by the Foreign Department of the Interior Ministry.
But like in what used to be the Soviet Union, the chinovniks in Afghanistan do not speak for the people. Once outside the airport, unadulterated hospitality and bonhomie overwhelmed me. Gandamack Lodge, the home of the small party of NATO-sponsored European journalists and our minder, a genial lieutenant-colonel, has sent a minivan. The lodge, centrally located and yet removed from the hustle and bustle of Kabul, is all smiles. Not cheap, it offers near-European comfort without ever letting me forget I am in Afghanistan. Nineteenth-century guns grace its walls, a local salesman is installed in the hallway, a flock of ducks walks the garden.
'Fear Has Sharp Eyes'
The question uppermost in my mind since the start of the journey has been that of security. The hotel, behind its two sets of gates and surrounded by other friendly, secure compounds, appears safe enough. Of the various officials I quizzed on the subject prior to my departure, an overwhelming majority cautioned against wandering the streets without armed protection from ISAF, NATO's incarnation in Afghanistan, sporting the 26 allies and 11 other concerned nations.
Fear has sharp eyes, as they say in Estonia. Kabul, fortunately, still remains eminently approachable for low-key Western visitors guided by an experienced local minder. Which is not to say that the fears expressed by officials are wholly groundless, but the fact remains that Western civilians attract no immediate hostile attention. (This also holds for Kandahar, where I was taken on a three-hour tour of the city by a local "fixer" in his battered Nissan during a similar trip in February.) It is the Western military which provides the targets of choice, and bomb and suicide attacks on military vehicles claim nearly all of the Western victims in Afghanistan. The exceptions -- where civilians have been targeted -- have almost always featured remote rural settings.
The obsession with security is brought into unexpected focus, however, on the famous Chicken Street, just around the corner from my hotel. A riot of little boys quickly assembles around our small party of Westerners, good-humoredly clamoring, "Who is your bodyguard?" and "I am your bodyguard!" Leaving Chicken Street, I decide to reward their concern with our safety, against most of my companions' warnings ("They'll be at each other's throats."). I change some dollars with a taxi driver whose services our fixer has engaged to take us to the mausoleum overlooking the city, and pay off my five bodyguards with 10 afghanis -- roughly $0.20 -- each. This turns out to be a reasonable rate of remuneration, as I later find out that it equals the price of a loaf of the most common type of flat bread. The "bodyguards" accept their wages with good grace, and two who said they were brothers serenely share a 20-afghani note.
This encounter serves as a reminder that an Afghan's working life starts from an early age. The little boys were all about 8 to 10 years of age. In this light, the oft-quoted statistic that the median age of the Afghan population is 17.6 years takes on a very different significance. At 17.6, the median Afghan will have spent long years contributing to his or her family's income.
And if Chicken Street, Kabul's most flamboyant commercial artery, is anything to go by, life in the Afghan capital is not easy for its traders and their minions. At best, it idles. Although there is a small Western presence in the town, the thousands of ISAF personnel stationed in and around Kabul rarely, if ever, venture out of their compounds on social errands. In fact, Chicken Street is officially off-limits for ISAF members. Ordinary tourists, meanwhile, are few and far between. On this particular Saturday, I saw none during my two hours out on the town.
There are a few brave souls -- mostly journalists and NGO personnel -- who keep a semblance of nightlife going in Kabul. But this is an anaemic world that exists in almost total isolation from the average Afghan's daily grind.
The many generators that line the streets in central Kabul tell a similar story. The capital can rely on six to eight hours of grid-provided electricity a day, and even that is, at best, an erratic supply.
The open gutters, possibly Kabul's worst eyesore, proffer similar melancholy testimony. They also remain a health hazard of more than passing relevance. ISAF officials like to quote a (possibly apocryphal) study purporting to establish that up to one-third of Kabul's ever-present dust is fecal in origin. This would certainly explain the draconian hygiene measures in force at all ISAF compounds. A fair part of soldiers' waking lives in Afghanistan is spent washing their hands.
Part Two: The Challenge Of The 'Pashtun Belt'
The Afghan Insurgency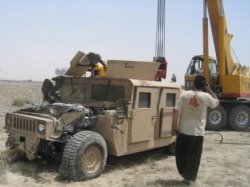 A U.S. military vehicle damaged by insurgents near Kandahar (epa)
HOMEGROWN OR IMPORTED? As attacks against Afghan and international forces continue relentlessly, RFE/RL hosted a briefing to discuss the nature of the Afghan insurgency. The discussion featured Marvin Weinbaum, professor emeritus of political science at the University of Illinois at Urbana-Champaign, and RFE/RL Afghanistan analyst Amin Tarzi.
LISTEN
Listen to the entire briefing (about 83 minutes):
Real Audio
Windows Media
ARCHIVE
RFE/RL's
coverage of Afghanistan
.
SUBSCRIBE
For weekly news and analysis on Afghanistan by e-mail,
subscribe to "RFE/RL Afghanistan Report."