It also saw clashes between protesters and police in the largest public demonstration the republic has seen in years, with some 500 people gathering Wednesday in Ingushetia's main city, Nazran, to protest a rise in abductions.
Police fired guns into the air to disperse the crowd after some of the protesters began throwing stones. Many in the crowd said federal and regional military and security forces are behind the kidnappings, and called for the resignation of the republic's unpopular president, Murat Zyazikov, himself a former Federal Security Service general.
Magomed Yevloyev, an independent journalist and chief editor of the ingushetiya.ru news site, tells RFE/RL's North Caucasus Service that public anger isn't likely to diminish anytime soon.
"It's 100 percent true that Ingushetia was on the verge of an uprising [during the rally]," Yevloyev says. "If the organizers had not stopped rallying at 3 o'clock at night, groups of some 100-200 young people from Magalbek and other towns had armed themselves with sticks and stones and were prepared to act as well. People were ready to revolt against our weak authorities. Now things are calming down, but in the future we could see the same situation developing again."
State Of Denial
At a Moscow news conference on September 20, however, Zyazikov said reports of unrest in Ingushetia were greatly exaggerated. The republic president denied that several reports of violence had ever taken place, and even rejected news of the July assassination attempt against him as "nonsense."
The incidents that take place in Ingushetia are no different than those happening elsewhere in the Caucasus, he said -- they are simply reported more often.
"Even the smallest, unregistered incident is publicized," Zyazikov said. "I won't name any other republics or regions now, but when servicemen were attacked [in Ingushetia], similar incidents -- the seizure of factories, the killings of police officers -- were taking place in several neighboring regions, and there wasn't a word about them."
"A substantial portion of the armed groups that were operating in Chechnya are now moving into Ingushetia."
Zyazikov also downplayed a decision by the Russian Interior Ministry in July to send an additional 2,000 forces into the republic as "normal troop movement" and alleged that unspecified "enemies of Russia" were behind efforts to destabilize the republic.

Local officials in Ingushetia have routinely blamed Islamic insurgents for the rising violence. Several of the rebel groups accused of the acts have rejected any connection to the spate of bombings and shootings.

RFE/RL Caucasus expert Andrei Babitsky says, however, that Ingushetia today is undeniably a host to rebel fighters who have flowed out of Chechnya as Ramzan Kadyrov came to power and imposed strict control over that republic.

"The regions of Chechnya have actually come under strong control. It's becoming more and more difficult [for rebels] to fight there," says Babitsky. "A substantial portion of the armed groups that were operating in Chechnya are now moving into Ingushetia. The process began relatively early -- several years ago already. Ingushetia will settle down only if, for example, they impose a kind of dictatorship like the one currently in Chechnya."

The Next Guerrilla War?

Resistance fighters commanded by radical Chechen field commander Shamil Basayev staged multiple attacks against police and security personnel in Ingushetia in June 2004, killing some 80 people. Since then, Russian troops have regularly sought to intercept groups of Chechen fighters who use Ingushetia as a rear base.


In the summer of 2006, the resistance began systematically shooting ethnic Ingush serving with the republican Interior Ministry, branding them as traitors. But the Ingush jamaat -- one of several operating under the aegis of the Chechen resistance command -- stressed at the same time that in conducting such operations, it takes every precaution to avoid harming "ordinary Muslims."
The current destabilization has prompted many observers to compare Ingushetia to neighboring Chechnya, still reeling from two federal antiseparatist wars. But Sergei Markedonov of Moscow's Institute of Political and Military Studies says such a comparison is largely superficial.
"What basis is there for describing it as a second Chechnya?" he says. "Is there something like an All-National Congress of the Chechen People that's coming out with demands to separate the republic from Russia? Are there influential separatist leaders? Is there some kind of informal structure, that's already been brought into power, with separatist slogans? Is there any of that? There isn't. [There are headlines that suggest] it's become the second Daghestan. But in Daghestan there's a very strong Islamic movement. Is there such a thing in Ingushetia? There isn't."
The situation in Ingushetia may be more complicated than the portrait, advanced mainly by Russia, as a two-way struggle between the resistance and security forces. There appear to be other, additional players involved -- although it is not entirely clear what their agendas are, and from whom they take their orders.
It is not even clear that Ingushetia will remain the central battleground in what may evolve into a free-moving guerrilla war between rival factions. Babitsky says rebel movements in the North Caucasus are itinerant in nature and may easily flow from region to region to avoid security clampdowns.
"I think that this center [of armed opposition] may be floating. When [authorities] introduce control over Ingushetia, it will move on to some other place. Actually, the situation in Daghestan is developing very dynamically, too. Armed groups there are no less active than those in Ingushetia."
Zyazikov's Job On The Line
In some part, the violence in Ingushetia may be aimed at undermining presidential authority. Zyazikov has patiently attempted to woo back ethnic Russians who left the region in the past decade. The apparently deliberate targeting of Russian residents is certain to hurt his standing, as are the frequent attacks against law-enforcement and security personnel.
Markedonov says Zyazikov has wasted past opportunities to improve the situation in the republic, and that there's little he can do now to counter the mounting unrest.
"He can't, because if he could, he would have already changed it," he says. "Actually, there was a long time when it would have been possible for him. For all the years of his leadership, the republic moved increasingly toward destabilization. Unfortunately, the leadership of Ingushetia, now more than anything, is reminiscent of a fortress under siege."
Zyazikov's already dim reputation in the region is due in part to what as seen as his unwavering loyalty to Moscow. He is the only North Caucasus leader to be reappointed to his post after the Kremlin eliminated direct elections in 2004.
Over the past four weeks, more than 1,500 people of a total of almost 2,000 respondents to an online poll have registered their readiness to sign a collective legal action against Zyazikov for corruption and deliberately misinforming Moscow about the true situation in Ingushetia.
(RFE/RL regional analyst Liz Fuller and RFE/RL correspondents Luke Allnutt and Andrei Shary contributed to this report.)
FURTHER READING
Ingush Fear The Worst

As the security situation continues to deteriorate, RFE/RL spoke to Khava Tarshkhoeva, an Ingush woman living in Moscow.

more

Cracks In The Leadership

Widespread antipathy to Ingushetia's president has spread to the political elite.

more
Fatal Violence In Ingushetia
Fatal Violence In Ingushetia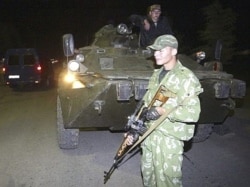 Russian Interior Ministry troops patrol a road to Nazran (AFP)
June 17 -- A militant suspected of opening fire at an Interior Ministry mobile squad in May is killed in the Ingush village of Surkhakhi.
June 29 -- A man is killed by a bomb planted near a health center in Karabulak.
July 4 -- The deputy head of Nazran's Pliyevo municipal administration, Khavazh Daurbekov, is shot and killed by unidentified gunmen.
July 17 -- The residential area and the house where Ingush President Murat Zyazikov and his relatives live comes under grenade fire.
July 16 -- Mathematics teacher Lyudmila Teryokhina and her two adult children are found shot dead in their house in the village of Ordzhonikidzevskaya.
July 18 -- Seven people are wounded in an explosion at a cemetery in the community of Ordzhonikidzevskaya. The incident occurs during the funeral of teacher Lyudmila Teryokhina and her two adult children, who were murdered July 16.
July 21 -- Unidentified gunmen kill Vakha Vedzizhev, the chief specialist with the Ingush Interethnic and Public Relations Ministry at Vedzizhev in Karabulak.
July 28 -- One serviceman is killed after the building housing the Ingush department of the Russian Federal Security Service (FSB) in Magas comes under fire.
August 1 -- An Ingush man is killed after he fires at police. An antitank grenade launcher, a submachine gun, and a rifle-mounted grenade launcher are found in the man's car.
August 23 -- One serviceman is killed when an armored personnel carrier hits a mine outside the village of Sur-Khaki in Nazran district.
August 24 -- Unidentified attackers kill two Daghestani sheep herders.
August 29 -- An armored vehicle runs over two cars in Nazran, killing three people. One border guard is killed and another wounded after their vehicle comes under fire in Nazran.
August 31 -- The husband and two sons of a female teacher are killed in Karabulak. Four police officers are killed when an UAZ vehicle blows up in Nazran.
September 2 -- A VAZ-2110 car and an armored vehicle of the Ingush interior forces collides on the Kavkaz federal highway in Ingushetia, killing two local residents. A local resident is killed in a shooting involving Interior Ministry soldiers in Karabulak.
September 7 -- Natalya Muradova, the chief physician of a blood transfusion center in Nazran, is shot dead by unidentified attackers.
September 8 -- A Russian Interior Ministry base in Malgobek comes under fire, killing one Interior Ministry serviceman. Two militants are killed in an ensuing chase.
September 11 -- Three members of a Roma family are shot dead in the village of Ordzhonikidzevskaya in the Sunzha district.
September 17 -- Unidentified attackers shoot and kill a Federal Security Service (FSB) officer in Ingushetia.
September 20 -- Two servicemen are killed in an armed attack in Nazran.