UNITED NATIONS, September 24, 2007 (RFE/RL) -- UN Secretary-General Ban described the meeting as "constructive" and "useful" to reporters after the talks concluded.
"While we agreed that the challenges are enormous and difficult," Ban said, "we also hope that the Afghanistan government under the leadership of President Karzai will continue to focus their efforts in good governance, eradicating corruption, eradicating the opium cultivation and drug trafficking, and promoting more education and sanitation and health facilities."
Ban and Karzai issued a joint communique reaffirming the commitment of the international community in supporting the Afghan government in terms of economic and social cooperation.
A major aim of this meeting was to strengthen ties with Afghanistan's neighbors, notably Pakistan and Iran, and to engage them in regional cooperation and gain their continuing support for the peace-building process in the country.
More Efforts At National Reconciliation
"While we help the Afghan government in their own efforts," Ban said, "the regional cooperation in the area of economy and security should also be strengthened, and there should be more efforts by President Karzai and Afghan leaders in promoting inclusive political dialogue for national reconciliation. All these efforts should be accompanied by international cooperation."
Karzai reaffirmed the support expressed by the UN secretary-general and expressed the Afghan people's gratitude for the material assistance that the international community is providing. In response to a question about his government's initiatives in integrating the Taliban into the reconciliation process, he said Kabul is welcoming any Taliban who are not part of Al-Qaeda or other terrorist networks.
"We are working hard on that," Karzai said. "We are trying very hard to bring them back into the fold, to make them return and participate in the making of the country. It's extremely important. This process will go on. Afghanistan, sir, is extremely grateful to the international community for the assistance that it has provided."
Pakistan's Efforts 'Promising'
Responding to a question about Pakistan's cooperation against terrorist elements infiltrating Afghanistan, Karzai described Islamabad's activities in that regard as "promising" and said it is easy to distinguish between good and bad deeds.
"Pakistan's contribution is very, very important," Karzai said. "We are working on it. The peace jirga was an important step in this direction. There is a subcommittee formed of the peace jirga between the two countries -- 25 from each side -- that will meet in a few days' time. That will then determine the course that we take towards better cooperation between the two countries in an effective fight against extremism and terrorism."
Besides the UN Security Council's five permanent member -- Britain, China, France, Russia, and the United States -- the high- level meeting was also attended by Canada, Germany, India, Iran, Italy, Japan, Netherlands, Norway, Pakistan, Saudi Arabia, Spain, and Turkey.
Also present were the Asian Development Bank, the European Union, the European Commission, NATO, and the World Bank.
Participants reviewed progress toward implementing the Afghanistan Compact, a five-year development blueprint launched in January 2006 by Kabul and some 70 foreign partners.
U.S.-Afghan Relations
STRATEGIC PARTNERS:
Since leading the military campaign to oust the fundamentalist and largely unrecognized Taliban regime from power in 2001, U.S. officials have pledged a long-term interest in Afghan stability.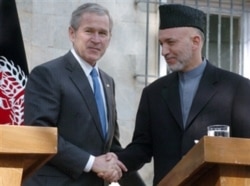 READ
'Strategic Partnership' Seen As Move Toward De Facto Rights For U.S. Bases
Analyst Discusses Increased U.S. Effort
Bush, Karzai Agree On Strategy Against Terror
Former CIA Analyst Says West Misunderstands Al-Qaeda
For regular news and analysis on Afghanistan by e-mail, subscribe to "RFE/RL Afghanistan Report."