Baltics: Regional Energy Conference Looks For Alternatives To Russia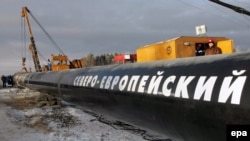 A section of the Baltic Sea pipeline in Russia's Vologda region (epa) October 9, 2007 (RFE/RL) -- Several Eastern European states start a two-day meeting with energy-rich Caspian basin nations on October 10 to discuss energy-supply alternatives to Russia.
The participants at the conference in Vilnius include the presidents of Lithuania, Latvia, Poland, Ukraine, Azerbaijan, Romania, and Georgia, as well as high-ranking officials from Estonia, Kazakhstan, Turkey, and the EU.
Birute Vesaite, the head of the Lithuanian parliamentary committee on economics, said the summit's aim is to find alternative energy supplies and routes to improve energy security and reduce the Eastern European countries' dependence on a single supplier -- Russia.
Russia is widely accused of using energy to increase its political power, especially in its neighboring countries, including the Baltic states and Poland. That's why Russia itself will be present at the conference on a lower diplomatic level than other participants, according to Tomas Janeliunas, an analyst at the Lithuanian Institute of Foreign Relations.
"This summit is being organized to find means to transport energy resources from the countries of the Caspian Sea by bypassing Russia, and to create an alternative supply network, which will be used by Poland and other Baltic states," Janeliunas said.
Potential Routes
Some alternatives are already on the horizon. Janeliunas says that Poland, the Baltic States, and Ukraine are working hard to create a pipeline from Odessa to Brody and Plock, Poland, and to get energy supplies from the Caspian Basin countries, such as Azerbaijan.
"So far, the only possibility is to use the Ukrainian Odessa–Brody pipeline, which would be extended to the Polish city of Gdansk," Janeliunas said. "The Lithuanian side believes that when this project is implemented, the pipeline might be extended from Poland to Mazeikiu Nafta," a Lithuanian oil refinery.
Janeliunas says the main obstacle is building a pipeline under the Black Sea to the Ukrainian city of Odessa; summit participants are set to discuss both the financial and political implications of such a project. Janeliunas says Russia might object to a Black Sea pipeline because it would cross the Russian pipeline that already transverses the Caspian Sea from Russia to Turkey.
Another alternative is to transport oil to Odessa by tanker, but that would be an expensive enterprise.
The analyst says the EU supports the idea, but that the countries of the region would have to finance the project themselves.
Janeliunas also says that a Russian-German deal to build a pipeline under the Baltic Sea, bypassing Poland and the Baltics, is one of the main motives for the countries' seeking alternative supplies.
Although Estonia this month announced it would not allow its territorial waters to be used for the project, Germany and Russia are likely to continue moving forward with implementing the deal.
"Nobody wants to abandon this pipeline project," Janeliunas said. The project is now being examined by Finnish ecological experts who are due to decide whether to accept the pipeline near Finnish coastal areas. "However, I think that one way or another, Russia and Germany have made substantial political and economic investments into this project, [and] it would be difficult to stop implementation of the project," Janeliunas said.
He added that energy security in the Baltic region would be seriously hampered by the project.
The countries are already making practical steps to counter Russian energy pressure, which is pushing them to improve energy cooperation within their region. The Polish oil company PK Orlen now owns 90 percent of Lithuanian Mazeikiu Nafta, the only oil refinery plant in the Baltic States.
Janeliunas says that although Russia stopped supplying oil to the plant through pipelines last summer, Mazeikiu Nafta continues to operate by buying oil from tankers in the Baltic Sea.
During the summit, Poland, Lithuania, Latvia, and Estonia are also expected to sign a protocol of intent to build a new nuclear power plant in Lithuania.
The Vilnius summit follows the Krakow energy conference in May.

Ukraine And European Energy Security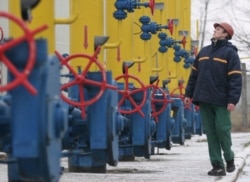 A worker inspects a gas facility outside of Kyiv (epa file photo)

MURKY CONNECTIONS. A year after the so-called gas war between Moscow and Kyiv, energy transhipments from Russia to Europe via Ukraine remain a concern. On December 1, RFE/RL's Washington office hosted a briefing featuring Tom Mayne, an energy researcher for the London-based Global Witness. Mayne discussed the lack of transparency in the energy sectors of Ukraine, Russia, and gas supplier Turkmenistan.
LISTEN
Listen to the entire briefing (about 60 minutes):

Real Audio
Windows Media
RELATED ARTICLES
Neighbors Watch As Russia Moves Toward WTO Membership
Kyiv Announces Terms Of New Russian Gas Deal
Former U.S. Ambassador Says Kyiv Can Cope With Gas Price Rise
ARCHIVE
RFE/RL's English-language coverage of
Ukraine
,
Russia
, and
Turkmenistan
.