The annual Human Dimension
Implementation Meeting looks at how well governments are implementing
their OSCE commitments to build civil society. RFE/RL correspondent
Heather Maher asked the head of the U.S. delegation, Ambassador Richard
S. Williamson, how this year's meeting went.

RFE/RL:
You're back in Chicago now after two weeks in Warsaw. Looking back over the course of the meeting, what would you say was the biggest achievement or high point?
Richard Williamson:
Well, I think by its nature the high point of the OSCE Human Dimension Implementation Meeting is the fact that NGOs [nongovernmental organizations] from all over the world -- and especially from within the footprint of the OSCE -- can come to Warsaw on an equal footing and participate in the discussion on all the topics, which they did.
Unfortunately there was a Russian walkout, when the Russian-Chechen Friendship Society spoke and the U.S. supported the NGO's participation and expressed strong unhappiness with the Russian decision to walk out.
But the biggest thing is the opportunity for civil society from throughout the OSCE to come and share their perspectives. No country's perfect -- we all have room for improvement. But for democracy to survive, you need a strong, vibrant, civil society and Warsaw helps empower those NGOs helping in civil society throughout the region.

RFE/RL:
Did you identify any trends in civil-society development, either in a few countries or in a particular region?
Williamson:
Sure, I think the antidemocratic drift in Russia continues and that crowding out of civil society continues, and that's very troubling. Since their [Russia's] new NGO law -- through the implementation of that, plus abuse of their antiextremism and antiterrorism laws -- 2,300 NGOs have been closed, most of whom are peaceful organizations that allow civil society to organize and try to hold the government accountable for the human rights commitments they've made.
Belarus, the last dictator in Europe, continues to act like the last dictator in Europe. And in parts of Central Asia there are also disturbing trends. So there are areas of concern. I think the other member states have an obligation to be "forward leaning." I think we saw some of that in Warsaw. And I think we will continue to see that through various mechanisms of the OSCE.
RFE/RL:
In their closing statement, the Russians protested the inclusion in the meeting of the Russian-Chechen Friendship Society and said it will "consider our future relations with" the OSCE. How seriously is that threat being taken by the member states?
Williamson:
Well, we had an opportunity to have bilateral meetings both with the Russian Federation representatives, as well as with the leadership of the Russian-Chechen Friendship Society. I think the leadership of the Russian-Chechen Friendship Society is absolutely committed to advancing a freer Russia. And they won't allow themselves to be intimated. They have not been so far, and I don't think they will be in the future. The important thing, furthermore, is that OSCE not let itself be intimidated by the bluster from Moscow.
The Russian Federation is a [signatory] of the Helsinki Accords and a large number of subsequent OSCE commitments dealing with human rights, rule of law, and democracy, and the Helsinki process commits every one of the 56 member states to have a right to examine other countries' fidelity to those commitments and it's important that the other countries of the OSCE stand up for those standards, whomever might be challenging them. And to the degree that the Russian Federation is failing to meet those standards, we have an obligation to speak out. And I think at the Human Dimension Implementation Meeting and in other venues we've got to continue to do that and we will.
RFE/RL:
In its closing statement, Kazakhstan acknowledged the weakness of its internal political opposition but said it "can't change votes." It also reasserted its "full right" to head the OSCE in 2009, arguing that its leadership role would advance democracy not only in Kazakhstan, but in the region as a whole. What was the response to that argument?
Williamson:
Well, what I told the Kazakh delegation in our bilateral meeting, and what we've said elsewhere, is we welcome Kazakhstan's aspiration to be chairman in office. The chairman in office has to abide by OSCE standards and Kazakhstan certainly would have to make progress to meet those standards before they would be an acceptable chairman in office.
We think it's important for Central Asia to become fully engaged and for those countries in Central Asia that have lagged to accelerate their compliance with the commitments they've made.
So overall, we think their aspiration is good, we made it clear -- both in our meeting with Kazakhstan and others -- that the United States could not support their chairmanship in 2009 at this point because they have to make more progress.

RFE/RL:
You were in Warsaw for two weeks during this meeting. You must have heard or seen some extraordinary things, or been inspired by someone you met?
Williamson:
I had lunch with the head of the Moscow Bar Association [Genrikh Reznik], who had criticized the Russian Federation government. During a wide-ranging luncheon -- where he raised concerns about the United States, also raised concerns about the United States' tactics sometimes with the Russian Federation -- he also said to me: "The fact that the Russians respond so violently to the OSCE means that it causes them discomfort. And the degree to which the OSCE causes discomfort to the antidemocratic drift in Moscow is encouraging, and it represents what this session is about, which is to try and make sure that everyone has the benefits of human rights and democracy."
In fact, the head of the Belarusian Helsinki Commission [Dzmitry Markusheuski] said to me: "The position of some governments should be stronger. It's not a request for kindness to say that the participating states should meet their commitments, it's a demand for governments to honor their commitments." And I think those words, of two active leaders in civil society in their respective countries are encouraging, and it also is encouraging that the OSCE's at least making some contribution to advance the standards upon which it was founded.
Building Democracy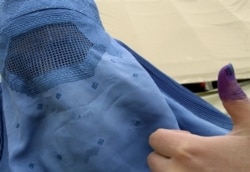 An Afghan woman votes in Kandahar in October 2004 (AFP)
ROWING AGAINST THE TIDE:
National Endowment for Democracy President Carl Gershman and Hudson Institute Senior Fellow John O'Sullivan led an RFE/RL briefing about U.S. efforts to promote democracy around the world, and especially in the Middle East.
LISTEN
Listen to the entire briefing (about 55 minutes):

Real Audio
Windows Media
RELATED ARTICLES
U.S. Reports On Democracy-Promotion Efforts
Is Bush Abandoning Democracy Building In Iraq?
Karen Hughes Urges Dialogue Based On 'Common Values'
SUBSCRIBE
For a regular review of civil-society developments throughout RFE/RL's broadcast region,
subscribe to "RFE/RL (Un)Civil Societies."