For several years, Kazakh President Nursultan Nazarbaev has been actively promoting his country's bid to become the first Asian country to chair the Organization for Security and Cooperation in Europe.
The OSCE last year postponed a decision on Kazakhstan's bid as a way of giving the Central Asian republic time to show visible improvement in its record on democracy and human rights.
A key opportunity came in August, when the country held early elections to the lower house of parliament, the Mazhilis.
One of the deputies elected in that vote, Kamal Burkhanov, says the poll bolstered Kazakhstan's case for the 2009 chairmanship.
''The chances of [Kazakhstan] leading the OSCE are very solid and very weighty," Burkhanov says. "The elections were held in a way [that] we had planned. In principle, the people vote; they give the preference. That is their right and a sacred one. It is the majesty of a voter to vote -- that is why I do not see any obstacles to chair the OSCE."
One-party Parliament
That view is not unanimous, however. The voting was conducted on a party-list basis, and when the results emerged just one of seven competing parties -- the ruling Nur Otan party -- won seats.
"After the August elections, of course, the chances of Kazakhstan to be the head of such an influential international organization as the OSCE have diminished," says Social Democrat Amirzhan Kosanov, whose party was among the six losers.
Shortly after the election, the Paris-based group Reporters Without Borders said media coverage of the campaign was "biased and heavily influenced by the [Kazakh] authorities."
"We think [Kazakhstan] doesn't deserve to chair the OSCE because we don't think they respect international standards enough regarding human rights or freedom of expression," says the group's spokesman, Jean-Francois Julliard. "I think a country where press freedom is not granted and in a country where media cannot cover freely an election, for instance, shouldn't be in a position to chair an international organization like the OSCE."
But when the OSCE meets in November to make a final decision on the Kazakh bid, ministers in attendance could take a much broader view.
Gregory Gleason teaches international relations at the University of New Mexico in Albuquerque and is a specialist on Central Asian affairs. Gleason says Kazakhstan can point to achievements that might improve its chances.
"It should be acknowledged as a country that has been very successful in market reform," he says. "It was the first 'market economy' recognized by both the Europeans and the United States; it was recognized as a 'market economy' prior to the recognition of Russia as having succeeded in the transition to a market economy. It's a country that was willing to relinquish its control of nuclear weapons, and in a certain respect it's the first country to do that. It's made substantial progress in administrative reform and also in particular aspects of market reform -- banking is one that stands out as being very successful in Kazakhstan. So it seems to me that it would be an appropriate phase for Kazakhstan to assume the leadership of the OSCE."
Oil And Gas
Kazakh officials doubtlessly want to play up such accomplishments to offset criticism of the August parliamentary elections. In subsequent assessments of the voting, OSCE monitors noted progress but said the poll still fell short of international standards for democratic elections.
Kazakhstan has one more card to play as the time for an OSCE decision draws near: It is poised to become one of the world's biggest suppliers of energy resources -- oil and natural gas.
With prices for fossil fuels high and demand rising, Kazakhstan might be able to count on support from OSCE member states that feel a short tenure as OSCE chairman is worth decades of access to Kazakhstan's oil and gas.
(RFE/RL Kazakh Service Director Merhat Sharipzhan contributed to this report)
Kazakhstan And The OSCE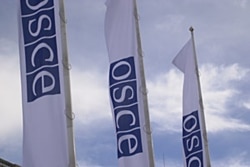 READY TO LEAD THE OSCE? Kazakhstan has been lobbying to be granted the rotating chair of the Organization for Security and Cooperation in Europe (OSCE) in 2009. In March, current OSCE head Karel De Gucht visited the country and said Kazakhstan is better prepared to head the OSCE than any other Central Asian country. But concerns about the state of democracy, the media, and ethnic relations make Kazakhstan's bid extremely controversial....(more)
RELATED ARTICLES
OSCE Says Kazakh Presidential Vote Flawed
OSCE Says Kazakh Obligations Not Met Ahead Of Vote
OSCE Offers Amendments To Kazakhstan's Draft Media Law
ARCHIVE
RFE/RL's
coverage of Kazakhstan
. The website of
RFE/RL's Kazakh Service
.