Reporters Without Borders (RSF) said the Kazakh media's coverage of the August 18 elections was "biased and heavily influenced by the authorities." The Paris-based group said there were many cases of "pressure, self-censorship, violations of electoral legislation, and bias" in favor of the party of President Nursultan Nazarbaev.
The Nur Otan party received 88 percent of the vote, and all the seats in the lower house of parliament.
In a statement, RSF said a country where "press freedom stops whenever the authority of the president and his party is challenged is not fit to head an organization such as the OSCE."
The OSCE, which monitored the vote, called the election a step foward for democracy, but said it still did not meet international standards.
For his part, Nazarbaev said the polls enabled "open, honest, and just elections in which all political forces in the country were able to take part."
Kazakhstan And The OSCE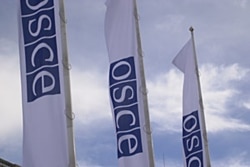 READY TO LEAD THE OSCE? Kazakhstan has been lobbying to be granted the rotating chair of the Organization for Security and Cooperation in Europe (OSCE) in 2009. In March, current OSCE head Karel De Gucht visited the country and said Kazakhstan is better prepared to head the OSCE than any other Central Asian country. But concerns about the state of democracy, the media, and ethnic relations make Kazakhstan's bid extremely controversial....(more)
RELATED ARTICLES
OSCE Says Kazakh Presidential Vote Flawed
OSCE Says Kazakh Obligations Not Met Ahead Of Vote
OSCE Offers Amendments To Kazakhstan's Draft Media Law
ARCHIVE
RFE/RL's
coverage of Kazakhstan
. The website of
RFE/RL's Kazakh Service
.