Speaking today at a session of the Assembly of People of Kazakhstan in Astana, Nazarbaev described the vote as free and fair.
"Unfortunately the other parties were not able to get over the 7 percent barrier [to get into the legislature], but we are not going to make any tragedy out of it," he said. "There have been examples time and again in world history of parliaments that were one-party ones and yet effective, especially as we are going to consider the constructive proposals of the opposition."
Preliminary results show that Nur Otan (Light of the Fatherland) won 88 percent of the vote, leaving the opposition with no seats in the Mazhilis, the lower house of parliament. Seven parties contested the vote for the 98 parliamentary seats up for grabs.
The leader of the opposition All-National Social Democratic Party, Zharmakhan Tuyaqbay, told RFE/RL's Kazakh Service that his party rejected the result as fraudulent.
"If not the majority, then many voters, in fact, supported us," Tuyaqbay said. "We shall challenge the [election] results in court. We doubt, though, that the courts will help us, but the major issue here is to raise concern. We have to inform the population about the real face of today's power holders. Only when the people realize to what extent the power holders are not just, then they will be able to wake up."
The other major opposition party issued a statement rejecting the preliminary results. Ak Zhol (Bright Path) said it will "insist on a new vote count," and it appealed to Nazarbaev "to form a commission of representatives of all political parties to check and evaluate the election returns."
According to the Central Election Commission, the All-National Social Democratic Party and Ak Zhol (Bright Path) party received 4.62 percent and 3.25 percent of the vote, respectively.
The International Election Observation Mission said the vote reflected progress but that a number of international standards were not met, in particular with regard to the vote count. The mission included monitors from the Organization for Security and Cooperation in Europe (OSCE) and the Parliamentary Assembly of the Council of Europe (PACE).
Kazakhstan's Fallen Opposition
Kazakhstan's Fallen Opposition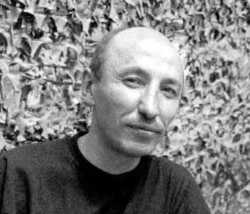 Slain Kazakh journalist Askhat Sharipzhanov (undated RFE/RL file photo)
February 13, 2006:
Altynbek Sarsenbaev
-- a leader of the Kazakh opposition, co-chairman of the Naghyz Aq Zhol party, former minister of information, former Kazakh ambassador to Russia, former secretary of Kazakhstan's Security Council -- is found dead with his bodyguard and his driver, shot to death, execution style, with their hands bound behind their backs.
November 11, 2005: Zamanbek Nurkadilov-- prominent Kazakh politician, former mayor of Almaty, former Minister of Extraordinary Situations, and since a vocal critic of President Nursultan Nazarbaev since March 2004 -- is found shot to death, with two shots in his chest and one in his head. Kazakh authorities officially rule the case a suicide.
June 2, 2005: Batyrkhan Darimbet -- opposition journalist and editor in chief of the weekly AZAT -- is killed in what is officially reported as a traffic accident. Relatives and activists assert that it was a political killing.
December 19, 2004: Erzhan Tatishev -- head of Kazakhstan's largest bank, TuranAlemBank -- is killed in what was officially described as a hunting accident. Kazakh political observers allege that it was a premeditated assassination.
July 20, 2004: Askhat Sharipzhan-- independent journalist and political commentator for NAVI online -- dies of injuries sustained several days earlier in what was officially reported as a hit-and-run accident. Relatives and colleagues believe it was an assassination.
November17, 2002: Independent journalist Nuri Muftakh is killed in what is officially reported as a traffic accident. Colleagues and activists regard the death as suspicious.
January 4, 2002: Human rights activist Aleksei Pugaev is found dead, the victim of a hit-and-run car accident. Colleagues regard the circumstances as suspicious and no one is ever arrested in connection with the death.
(compiled by RFE/RL's Kazakh Service)
RELATED ARTICLES
Sarsenbaev Murder Trial Begins
Kazakh President Tries To Calm Growing Political Crisis
Nazarbaev Landslide Buries Future Problems
Nazarbaev Touts Stability In Run-Up To Election
ARCHIVE
To view an archive of RFE/RL's coverage of Kazakhstan, click here.

SUBSCRIBE
For weekly news and analysis on all five Central Asian countries by e-mail, subscribe to "RFE/RL Central Asia Report."