The Central Election Commission said voter turnout was just under 65 percent nationwide. Seven parties contested the election, which was called two years early.
The Nur Otan party of President Nursultan Nazarbaev is widely expected to retain control of the 107-member lower house.
The snap election is seen as a test of Kazakhstan's standard of democracy. No election in the Central Asian country has ever been judged as free and fair by Western observers. OSCE monitors will make an assessment of the vote on August 19.
Nazarbaev, who has been in power since in 1989, hopes this will change following the introduction of amendments to the constitution in May. The changes made today's early elections necessary.
"Today is another important day for our development as an independent country," Nazarbaev said today after casting his ballot in the Kazakh capital, Astana.

"We made changes to our country's constitution. We made these changes in order to further unite our people around the ideas that have been expressed by all political parties."
The constitutional changes hand the Mazhilis more powers, such as naming the prime minister. But they also remove the limit on the number of terms the Kazakh president can serve.
Nazarbaev's Nur Otan party (Light of the Fatherland) is expected to win a landslide and retain control of the legislature, which currently has only one opposition deputy.
As one voter told RFE/RL, the Nur Otan party enjoys wide popularity among Kazakhs. "I voted for the Nur Otan party," said the woman, requesting anonymity. "Everyone believes in Nur Otan, so I believe in it, too."
Two opposition parties, the Social Democratic Party and Ak Zhol (Bright Path), are nonetheless seen as having a real chance of securing seats.
But Bolat Abilov, the deputy head of the Social Democratic Party, says that multiple voting is taking place in favor of Nur Otan.
"The so-called merry-go-round is being used actively in Almaty," Abilov told RFE/RL in Almaty. "People travel around the city in minibuses and vote in several polling stations at the same time."
European Union officials have said the vote will be closely monitored. Official results are not expected until five days after the election.
Kazakhstan And The OSCE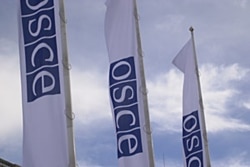 READY TO LEAD THE OSCE? Kazakhstan has been lobbying to be granted the rotating chair of the Organization for Security and Cooperation in Europe (OSCE) in 2009. In March, current OSCE head Karel De Gucht visited the country and said Kazakhstan is better prepared to head the OSCE than any other Central Asian country. But concerns about the state of democracy, the media, and ethnic relations make Kazakhstan's bid extremely controversial....(more)
RELATED ARTICLES
OSCE Says Kazakh Presidential Vote Flawed
OSCE Says Kazakh Obligations Not Met Ahead Of Vote
OSCE Offers Amendments To Kazakhstan's Draft Media Law
ARCHIVE
RFE/RL's
coverage of Kazakhstan
. The website of
RFE/RL's Kazakh Service
.