RFE/RL: What is Washington's position on Kazakhstan's possible chairmanship of the OSCE?
Ambassador Richard S. Williamson: Secretary [of State Condoleezza] Rice has said that Kazakhstan's candidacy for chair in office is welcome. But there would probably have to be more progress made. Kazakhstan has expressed an interest to become chairman in office in 2009, and the State Department has expressed the view that perhaps they should be looking at 2011, in hopes that more progress be made to strengthen human rights and democracy in Kazakhstan.
RFE/RL: How are countries chosen as chairman of the OSCE?
Williamson: The OSCE is an institution that is built on a shared commitment to values, human rights, and democracy. The chairman-in-office rotates among various members of the OSCE and it's important, given the central role of the OSCE in advancing those values and recognizing that human rights and democracy are linked to security and stability, that the chairman in office be a country that represents those values in what they do domestically as well as in their foreign policy.
RFE/RL: What can the international community do to press for a more open society in Belarus?
Williamson: [U.S.] President [George W.] Bush has stated that [President Alyaksandr] Lukashenka in Belarus is Europe's last dictator. And the last election was neither free nor fair. The United States has also raised its objects to the efforts Minsk has sought to circumscribe the activities of nongovernmental organizations and crowd the space for civil society.
It's important that the OSCE and others hold Belarus to the same standards as every other member state. Belarus has signed on and made commitments with respect to freedom of expression, freedom of assembly, free and fair elections, and other human rights standards. And at the Human Dimension Implementation meeting in Warsaw over the next two weeks, Belarus's disappointments in these areas are appropriate subjects for discussion and the international community should continue to push -- through the OSCE, through the UN, through other mechanisms -- the standards and values and commitments on human rights that Belarus has made. They shouldn't be allowed to be [signatories] to commitments they are unwilling to live up to.
RFE/RL: Last week, members of the U.S. delegation walked out of an OSCE conference on terrorism victims because the Spanish chairmanship blocked a Chechen support group from participating, at Russia's request. Prior to that, the OSCE delivered an inconclusive report on Georgia's accusations that a plane had entered its airspace from Russian territory and dropped a missile. The OSCE said it happened, but didn't want to lay blame. That was also seen as a victory for Russia. Do you feel Russia has disproportionate influence in the OSCE?
Williamson: All the 56 member states of the OSCE should have an equal opportunity to be heard, to participate and exchange views. No state should be able to limit the OSCE's ongoing work to implement and support the standards and commitments that those member states have made. That includes support for civil society and nongovernmental organizations. It includes respect for national borders and sovereignty.
And so there should not be a double standard for any particular member. The United States feels all legitimate NGOs should be able to actively participate at the Human Dimension Implementation meeting in Warsaw whether they be from Chechnya or elsewhere. We believe that any violation of OSCE standards should be legitimate topics for discussion and we will be pressing in Warsaw that view on a whole range of issues of concern to us regarding some countries in crowding the space for civil society, in putting inappropriate, repressive, measures on a free and vibrant media, etc.
As head of the U.S. delegation that's my commitment and I think both President Bush and the secretary of state have clearly and repeatedly expressed [concern] about authoritarian drifts in Russia. The OSCE is one venue where such a drift has to be resisted.
RFE/RL: What are your thoughts on what some call Russia's frequent attempts to define how OSCE election monitors function in countries where Moscow has an interest?
Williamson: One of the important mechanisms of the OSCE and the Office of Human Rights and Democracy of the OSCE is to fairly, completely, and independently monitor elections. And the OSCE election observer missions have been critical in many cases. For example, in revealing the corruption involved in the Georgian and then Ukrainian elections a few years ago.
Efforts to bring greater central control of these election observer missions back to Vienna should be seen for what they are: and that is, an effort to eviscerate their effectiveness, to compromise their independence, and ultimately to limit their ability to identify and expose elections that are not free or fair. The principles of the Helsinki Agreement and the OSCE process have time and again required the member states to make commitments to free and fair elections. The OSCE will not bend to efforts to eviscerate their effectiveness in this regard.
RFE/RL: Finally, the effectiveness of groups that operate under the auspices of the OSCE, like the Minsk Group, has been under scrutiny. The Minsk Group has been mediating negotiations on Nagorno-Karabakh for more than a decade but hasn't accomplished anything of note. Is there a concern that such groups need more oversight or quantitative evaluation?
Williamson: There's a number of frozen conflicts of which you just identified one. Abkhazia is another in northern Georgia. And the OSCE has tried to play a mediating role with groups that have been established for dialogue. None of the frozen conflicts have made much progress. And those countries that have stood in the way of progress, pressure should be applied on them, it is inappropriate to allow these types of tense situations to be frozen in perpetuity, creating instability and uncertainty. So I think the OSCE can and should continue to play a role. But ultimately it's the decision in capitals of certain countries, which seem to find advantage in perpetuating these frozen conflicts as opposed to seeking resolution.
Dueling Investigations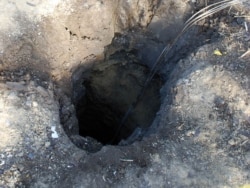 A crater at the site where a missile landed near the village of Tsitelubani (InterPressNews)
There have been three investigations into the August 6 incident, in which Georgia claims Russia dropped a missile on its territory. Russia denies the allegations.
1. Defense specialists from the United States, Sweden, Latvia, and Lithuania concluded on August 15 that an aircraft had entered Georgian airspace from Russia and dropped a missile. They said the plane flew from Russian to Georgian airspace and back three times. The experts described the missile as a Russian-designed KH-58, which is intended to take out radar systems. The team added that Georgia's air force "does not possess aircraft equipped with or able to launch" that missile. (Read the full report here)
2. A group of experts from Britain, Poland, and Estonia on August 22 corroborated the results of the first investigation. The experts said that a military jet illegally entered Georgian air space from Russia and dropped or jettisoned a missile before flying back to Russia. (Read the full report here)
3. A team of experts from Russia dismissed on August 17 the findings of the first investigation. The experts said that no aircraft violated Georgian airspace from Russia and suggested that Georgia might have planted the missile itself. (Read a transcript of authors' press conference here)