RFE/RL's Kazakh Service reports that the two sides discussed plans for the country's newly elected parliament during talks in Astana on September 11.
President Nursultan Nazarbaev's Nur Otan (Light of the Fatherland) party is the only party in the new parliament, which was elected on August 18.
After the talks, Bertrand de Crombrugghe, Belgium's ambassador to the OSCE, said he is concerned that deputies will only be able to debate with members of the same party.
De Crombrugghe also expressed hope that the monolithic parliament will address such issues as freedom of speech and freedom of assembly.
Slovakia's ambassador to the OSCE, Peter Lizak, expressed hope that the Kazakh parliament will be more politically diverse in the future.
"Maybe I am going too far in the future," Lizak said, "but my question is going to the direction if you would be ready to discuss the possibility to change...the threshold of the elections to parliament from [what is] now 7 percent to a lower level. Obviously, such a step would create a condition for having parliament become more colorful [in the next five years] than it [is] now."
Nur Otan's deputy chairman, Sergei Gromov, said Nur Otan's intention is to remain the ruling party as long as possible.
He said there is no reason to be concerned about the opposition's absence from parliament.
"The victory of one party [in parliamentary elections] does not mean that all of the other parties are left out, or are liquidated, or are self-liquidated," Gromov said. "They have their own media outlets."
Gromov said Kazakhstan's priority is the economy. He also noted that holding the OSCE chairmanship in 2009 would help Kazakhstan develop its democratic institutions.
Nazarbaev has been actively promoting his country's bid to become the first Asian country to chair the OSCE. But some critics have said last month's parliamentary vote demonstrated that Kazakhstan is not yet ready for such a role.
The OSCE will meet in November to make a final decision on the Kazakh bid.
Kazakhstan And The OSCE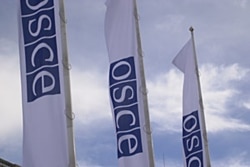 READY TO LEAD THE OSCE? Kazakhstan has been lobbying to be granted the rotating chair of the Organization for Security and Cooperation in Europe (OSCE) in 2009. In March, current OSCE head Karel De Gucht visited the country and said Kazakhstan is better prepared to head the OSCE than any other Central Asian country. But concerns about the state of democracy, the media, and ethnic relations make Kazakhstan's bid extremely controversial....(more)
RELATED ARTICLES
OSCE Says Kazakh Presidential Vote Flawed
OSCE Says Kazakh Obligations Not Met Ahead Of Vote
OSCE Offers Amendments To Kazakhstan's Draft Media Law
ARCHIVE
RFE/RL's
coverage of Kazakhstan
. The website of
RFE/RL's Kazakh Service
.