Alimbekov's e-mails brought Kazakhstan's National Security Committee (KNB) to his home in Shymkent in South Kazakhstan Province, where he was detained by KNB agents.
Alimbekov now faces charges under Kazakhstan's law on mass media, in the first such case to be applied to the use of email. He has been in custody since August 16 and -- according to at least one source -- could soon be transferred to a psychiatric center.
Little is known about the content of 23 e-mails purportedly found in Alimbekov's e-mail outbox. Relatives and friends contacted by RFE/RL's Kazakh Service could not say exactly what was in the messages.
A KNB official, Nurlan Balgimbaev, suggested the suspect had "insulted" Kazakh President Nursultan Nazarbaev and "encouraged religious hatred and enmity."
Human rights activists say at least one referred to a "Putin-Nazarbaev KGB-Gestapo."
Arrested For His Beliefs
Rozlana Taukina, the head of the Almaty-based Journalists in Trouble Foundation, says that no matter what was in the e-mails, the charges against Alimbekov have no legal basis.
"We express our protest in connection with the arrest [of Alimbekov] and with the fact that -- on ideological motives, for the man's beliefs, for his viewpoints, for his subjective opinions -- they oppress him and have fabricated two criminal suits against him," Taukina said.
The suspect's brother, Oraz, told RFE/RL's Kazakh Service on September 4 that KNB agents, accompanied by a senior investigator, beat Alimbekov when they came to detain him.
"They did not show any warrant when they arrested him. They forced him into the car and beat him [while he had] handcuffs on. Senior investigator Turmanov was present when they were kicking and beating my brother," Oraz Alimbekov said. He said that his brother suffered a broken rib and several broken teeth. " I managed to speak to him yesterday [September 3] -- he told me he had not been able to eat for two days," he said.
News agency Interfax-Kazakhstan first reported on Alimbekov's case on September 4, nearly three weeks after he was detained. The agency quoted Nurlan Balgimbaev, a former prime minister who heads the South Kazakhstan region's KNB. Balgimbaev alleged that Alimbekov's e-mail messages violate Kazakh media laws because he was sending e-mails to multiple addresses -- including to foreign diplomatic representations in Kazakhstan.
Balgimbaev also said a psychiatric evaluation of Alimbekov was done because he "did not behave himself adequately." Balgimbaev said the "experts" who conducted those tests suspect Alimbekov is psychopathic, although no final conclusions were reached. He added that Alimbekov will undergo further psychiatric analysis in Almaty.
No Isolated Case
The case is likely to spawn considerable private debate in Kazakshtan, which has a history of using the legal system to silence government critics.
Theater director Bolat Atabaev, who has been following the case along with the rest of the public, told RFE/RL's Kazakh Service that everyone has a right to express his opinion on the current state of society.

"If they kill politicians, if they kill normal people -- the cream of society -- why should he keep silent?" Atabaev said.
It is perhaps too early to say whether Alimbekov's case will set a precedent. South Kazakhstan KNB chief Balgimbaev said security forces violated no laws on privacy by detaining Alimbekov for his e-mails, since the messages had been forwarded by recipients to law-enforcement agencies.
But Alimbekov's case raises questions about free speech -- and the distinction between private materials and mass-media publications.
(RFE/RL Kazakh Service Director Merhat Sharipzhan contributed to this report)

The Erosion Of CIS Press Freedom
The Erosion Of CIS Press Freedom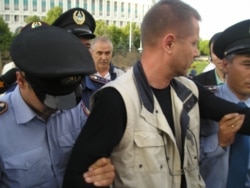 Prominent Kazakh journalist Sergei Duvanov being arrested in Almaty last month (RFE/RL)
FROM BAD TO WORSE. RFE/RL and Freedom House experts held a panel discussion at which they analyzed the erosion of press freedom in many CIS countries. According to Freedom House rankings, in 1994, six of the 12 CIS countries were rated "partly free"; by 2004, 11 of the 12 were rated "not free."
LISTEN
Listen to the entire briefing (about 70 minutes):

Real Audio
Windows Media
SUBSCRIBE
For regular news and analysis on media issues throughout RFE/RL's broadcast area by e-mail,
subscribe to "RFE/RL Media Matters."