After the Russian energy giant Gazprom threatened earlier this month to cut off natural gas to Ukraine unless it received $1.3 billion for past supplies, Russian President Putin remarked that "the large debt was totally unexpected."
An astonished Ukrainian Deputy Prime Minister Mykola Azarov told reporters in Kyiv, "It can't be true that the debt is as high as [Gazprom] says it is."
And Ukrainian Deputy Energy Minister Vadym Chuprun did did his best to describe a complicated situation in which Ukraine is not responsible for the debts, saying that the many suppliers, owners, and operators involved in supplying Russian-controlled gas to Ukraine had to "settle their accounts first, and when the amount drops we'll see whose debt it is and whose fault it is."
The lack of awareness was difficult to fathom, considering that one of the companies deemed responsible for accruing the debt, the Swiss company RosUkrEnergo, has three powerful members of Gazprom's management committee on its board.
Even more befuddling was the fact that when the smoke cleared and the numbers of the debt-payment agreement were crunched, the combined debt by all debtors was $2.2 billion.
Examining The Debt
The debt was purportedly incurred by two companies -- RosUkrEnergo and UkrGasEnergo (UGE), a Ukrainian-registered joint venture between RosUkrEnergo and Ukraine's state-owned Naftohaz Ukrayiny.
Much of the disagreement centered on ownership of natural gas stored in underground facilities in Ukraine.
When Ukrainian Energy Minister Yuriy Boyko on October 9 signed an agreement with Gazprom CEO Aleksei Miller to pay off the debt by November 1, it was decided that 8.5 billion cubic meters of gas belonging to RosUkrEnergo, worth $1.2 billion, would be turned over to GazpromEksport. The remainder of the debt, $929 million, would be paid by UkrGazEnergo and Naftohaz Ukrayiny from their own funds, in cash.
The full text of the signed agreement has not been published and has yet even to be seen by Ukrainian President Viktor Yushchenko, raising fears that it will forever remain hidden from public scrutiny.
Perhaps this should not be surprising, considering the opaqueness of the system under which Ukraine receives Russian-controlled gas.
The middleman Swiss company RosUkrEnergo was created in July 2004 by Russian President Putin along with former Ukrainian President Leonid Kuchma. Other key players in the deal were Yuriy Boyko, the current Ukrainian energy minister who in 2004 headed Naftohaz Ukrayiny; Dmytro Firtash, a Ukrainian businessman with no affiliation to the Ukrainian government; and Gazprom CEO Miller. RosUkrEnergo was essentially formed to replace the discredited Budapest-based EuralTransGas, which was later exposed in the Western press as being a creation of Gazprom and Firtash.
Gazprom presently owns 50 percent of RosUkrEnergo while Firtash and his partner, Ivan Fursin, a banker from Odessa, own the rest through a company called Centragas, which in turn is owned by the secretive Mabofi Holdings in Cyprus.
Medvedev, the deputy head of Gazprom's management committee, sits on RosUkrEnergo's board, as does Valeriy Golubev, who is in charge of Gazprom's sales to CIS countries. And Konstantin Chuichenko, the head of Gazprom's legal division, serves as co-director of RosUkrEnergo.
Trail Of Numbers
According to the January 2006 agreement signed between Ukraine and Russia, RosUkrEnergo -- at Gazprom's insistence -- was brought in to be the monopoly supplier of Central Asian and Russian gas to Ukraine.
The agreement stipulated that RosUkrEnergo would purchase a "basket" of Central Asian and Russian gas from GazpromEksport at $95 per 1,000 cubic meters. The total volume of gas purchased by RosUkrEnergo, according to the agreement, was 73 billion cubic meters (bcm) -- about 20 bcm more than Ukraine consumed when Ukrainian production of 20 bcm is taken into account.
The extra 20 bcm was the commission Naftohaz Ukrayiny paid to RosUkrEnergo for its services. RosUkrEnergo in turn sold this gas in Europe to, among others, Emfesz KFT, a Hungarian-based company controlled by Firtash. Emfesz then resold part of the gas to Poland -- undercutting Gazprom's price -- and sold the rest on the Hungarian domestic market.
However, in mid 2007, sources in the Russian gas industry reported that Firtash's companies had accrued a debt to RosUkrEnergo of more than $2 billion. It appears Gazprom become wary of Firtash's ability to repay the debt and decided to rein him in, but had little leverage over the maverick businessman who seemingly maintained a close working relationship with Ukrainian Prime Minister Viktor Yanukovych's administration in Kyiv and, above all, with Boyko and Yanukovych's chief of staff, Serhiy Levochkin.
Considering the complexity of the gas-transit arrangement and the internal dealings, it appears that the October 9 debt deal is just a temporary solution to a recurring problem. And one can expect that the 8 bcm of gas returned to GazpromEksport will be used as leverage over the new Ukrainian government as negotiations for Gazprom supplies to Ukraine in 2008 kick off this month.

An OPEC For Natural Gas?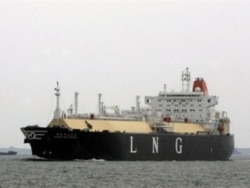 A tanker carries liquified natural gas to markets in Asia (AFP)

COMING TOGETHER? PFC energy analyst Nikos Tsafos and RFE/RL energy analyst Roman Kupchinsky discussed with an RFE/RL briefing what the likelihood is of a natural-gas-producers consortium being formed and what such an organization might look like.
LISTEN
Listen to the entire briefing (about 70 minutes):

Real Audio
Windows Media
RELATED ARTICLES
Vision Of Global Gas Cartel Gains Clarity
Putin To Take His Message To The Persian Gulf
Iranian Politicians Support Establishment Of Natural-Gas Cartel
'Gas OPEC' Moves Closer To Becoming Reality