Russian Prime Minister Viktor Zubkov said Ukraine will repay $1.2 billion by transferring gas from underground storage facilities in Ukraine owned by RosUkrEnergo to Gazprom for further export. He also said that remaining debt of $929 million is to be paid by Ukrainian energy suppliers UkrGazEnergo and Naftohaz Ukrayiny.
The deal was reached during a meeting between Zubkov and Ukrainian Prime Minister Viktor Yanukovych.
Zubkov said that "the most efficient way to resolve economic problems is to do it at the level of business entities." He added that Russia hopes "the Ukrainian government ensures proper control over the implementation of the agreement."
Gazprom had earlier threatened to reduce its supplies to Ukraine unless the country's debts were paid by the end of October. That sparked fears of a repeat of the January 2006 gas crisis in which the Russian energy giant briefly shut off the flow of gas to Ukraine, in turn affecting European supplies.
(Interfax, AP)

Ukraine And European Energy Security
Ukraine And European Energy Security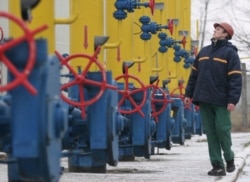 A worker inspects a gas facility outside of Kyiv (epa file photo)

MURKY CONNECTIONS. A year after the so-called gas war between Moscow and Kyiv, energy transhipments from Russia to Europe via Ukraine remain a concern. On December 1, RFE/RL's Washington office hosted a briefing featuring Tom Mayne, an energy researcher for the London-based Global Witness. Mayne discussed the lack of transparency in the energy sectors of Ukraine, Russia, and gas supplier Turkmenistan.
LISTEN
Listen to the entire briefing (about 60 minutes):

Real Audio
Windows Media
RELATED ARTICLES
Neighbors Watch As Russia Moves Toward WTO Membership
Kyiv Announces Terms Of New Russian Gas Deal
Former U.S. Ambassador Says Kyiv Can Cope With Gas Price Rise
ARCHIVE
RFE/RL's English-language coverage of
Ukraine
,
Russia
, and
Turkmenistan
.