Yatsenyuk told RFE/RL's Ukrainian Service on August 22 that he informed President Viktor Yushchenko and Prime Minister Viktor Yanukovych that efforts to reach an agreement had broken down.
"According to our intergovernmental agreement, we should already have a signed protocol about gas deliveries for 2008. But we don't have it, because we haven't received either instructions or a delegation of staff," Yatsenyuk said.
Yatsenyuk noted, however, that unofficial talks on the gas issue may be taking place.
In October 2006, Ukraine and Russia signed a deal for 2007 in which Ukraine would pay no more than $130 per 1,000 cubic meters of gas. The price is due to increase for 2008. Ukrainian officials have said they are seeking a price of $143 per 1,000 cubic meters.
Ukrainian Deputy Prime Minister Andriy Kliuyev says the 2008 price should be determined by mid-September.
After Russia's state-owned gas monopoly Gazprom cut off supplies to Ukraine in January 2006, the two countries signed a complicated five-year agreement that would eventually bring the rate Kyiv pays up to European market prices, which currently stand at $230 per 1,000 cubic meters.

Ukraine And European Energy Security
Ukraine And European Energy Security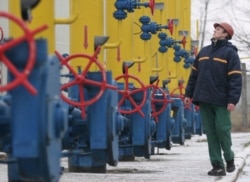 A worker inspects a gas facility outside of Kyiv (epa file photo)

MURKY CONNECTIONS. A year after the so-called gas war between Moscow and Kyiv, energy transhipments from Russia to Europe via Ukraine remain a concern. On December 1, RFE/RL's Washington office hosted a briefing featuring Tom Mayne, an energy researcher for the London-based Global Witness. Mayne discussed the lack of transparency in the energy sectors of Ukraine, Russia, and gas supplier Turkmenistan.
LISTEN
Listen to the entire briefing (about 60 minutes):

Real Audio
Windows Media
RELATED ARTICLES
Neighbors Watch As Russia Moves Toward WTO Membership
Kyiv Announces Terms Of New Russian Gas Deal
Former U.S. Ambassador Says Kyiv Can Cope With Gas Price Rise
ARCHIVE
RFE/RL's English-language coverage of
Ukraine
,
Russia
, and
Turkmenistan
.