Russia had threatened to reduce gas volumes delivered to Belarus by 45 percent if Minsk did not pay its debt.
But, after long negotiations, Belarus announced it had made the first payment -- reportedly $190 million.
Russia's state-controlled gas monopoly Gazprom seemed happy with the outcome.
"Today, Beltranshaz made the first payment covering a significant part of its debt to Gazprom. We see real steps taken by Belarus to settle this debt issue, and therefore, the decision was made not to reduce the gas supply today," Gazprom's spokesman Sergei Kupriyanov said.
Europe Fears
There had been fears that energy flows to the European Union would be interrupted.
Pipelines in Belarus serve as a key transit route for Russian oil and gas shipments to Western Europe.
But Russian officials and representatives of Belarus's gas-pipeline operator Beltranshaz said that gas volumes traveling to Europe were unchanged.
"I've ordered money to be taken out the reserves so the $460 million is paid. Of course, we're stripping our reserves bare." -- President Lukashenka
Under a contract signed in December 2006 between the Belarusian government and Gazprom, Belarus has to pay $100 per 1,000 cubic meters of Russian gas in 2007, compared with $46.68 during the previous 2 1/2 years.
Gazprom allowed Belarus to pay 55 percent of the contract price in the first six months of 2007, as long as Minsk paid off the debt by July 23.
Looking For Loans
The question now is whether Belarusian President Alyaksandr Lukashenka is able to pay the debt in full -- by August 10.
Lukashenka has said that getting the money is not a problem.
"I've ordered money to be taken out the reserves so the $460 million is paid [to Russia]. Of course, we're stripping our reserves bare, but [Venezuelan President Hugo] Chavez and our other good friends have already said, 'Don't worry. We'll give you as many loans as you want, even interest-free,'" Lukashenka said.
He also turned on Russia, accusing Moscow of using gas as a weapon in order to pressure Belarus into selling its most profitable assets.
This is the third time that Minsk and Moscow have quarreled over the payment for Russian gas.
An OPEC For Natural Gas?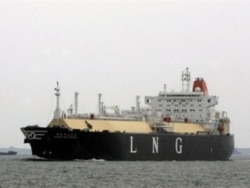 A tanker carries liquified natural gas to markets in Asia (AFP)

COMING TOGETHER? PFC energy analyst Nikos Tsafos and RFE/RL energy analyst Roman Kupchinsky discussed with an RFE/RL briefing what the likelihood is of a natural-gas-producers consortium being formed and what such an organization might look like.
LISTEN
Listen to the entire briefing (about 70 minutes):

Real Audio
Windows Media
RELATED ARTICLES
Vision Of Global Gas Cartel Gains Clarity
Putin To Take His Message To The Persian Gulf
Iranian Politicians Support Establishment Of Natural-Gas Cartel
'Gas OPEC' Moves Closer To Becoming Reality