The agreement, signed by the presidents of the five participating states in the course of the Vilnius energy summit, involves building a $700 million, 500-kilometer extension to an existing pipeline in western Ukraine.
That pipeline currently pumps Russian crude to the Black Sea port of Odesa. With the proposed extension in place, however, the flow would be reversed -- restoring the original aim of the Odesa-Brody pipeline. As the final project is envisioned, Azerbaijani crude would travel from the Caspian Sea to the Baltic Sea -- and bypass Russia entirely.
"It has been agreed that this pipeline will connect Odesa and Brody, in Ukraine, and will be extended here to Plock in Poland," says Tomas Janeliunas, an analyst with the Lithuanian Institute of Foreign Relations in Vilnius. "Then it will go from Plock to Gdansk. Lithuanians would also like for it to eventually extend from Poland to the [Lithuanian port] of Klaipeda."
Leaving Russia Out
Presidents of the countries involved praised the deal, saying it would help bring predictability and stability to oil supplies.
Speaking at a joint press conference with the other four presidents, Georgia's Mikheil Saakashvili praised the Vilnius gathering as "the most successful summit in which he has ever participated."
Polish President Lech Kaczynski was quick to note the deal is not aimed against any other country. However, Russia sent only a low-level delegate to the Vilnius summit, and it unlikely to be pleased by the agreement.
Janeliunas said the next stage will be a detailed feasibility study for the transportation system. If all goes well, he says, work on the pipeline may begin next year and could theoretically be finished around 2011.
The potential capacity of the pipeline has yet to be determined. But Janeliunas says Azerbaijan's commitment to fill the pipeline is key. "Azerbaijan's participation in the project is probably the main element of the agreement," he says. "Azerbaijan is the only participant that can supply oil. Without Azerbaijan this project would be ineffective. So far, transportation of oil [to Odesa from Azerbaijan] is planned using tankers. Georgia is considering the possibility of building a pipeline under the Black Sea."
Officials also expressed hope that Kazakhstan would also eventually act as a supplier.
Giorgi Vashakmadze, the director of corporate development for the new consortium, says organizers are enthused, but realistic, about how quickly the project can move ahead.
"It is difficult to say when this can be materialized. History teaches us that unexpected developments can always occur," Vashakmadze says. "In 2000, the agreement on the trans-Caspian [gas pipeline] was virtually ready, and everyone thought it was going to start functioning in a year and a half. But this didn't happen. We are talking about a set of many different factors here -- however the feeling that this [project] might develop very fast is much more realistic today, than it was a two-three months ago."
(RFE/RL's Georgian Service contributed to this report.)
The Post-Soviet Petrostate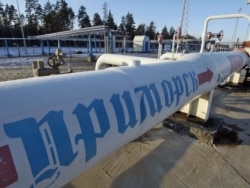 The oil-export terminal at Primorsk, Russia (TASS)


WEALTH AND POWER. At an RFE/RL briefing in Washington on January 24, Freedom House Director of Studies Christopher Walker and RFE/RL regional analyst Daniel Kimmage argued that energy-sector wealth is preventing many former Soviet countries -- Azerbaijan, Kazakhstan, Russia, and Turkmenistan -- from developing strong democratic institutions.
LISTEN
Listen to the entire briefing (about 90 minutes):

Real Audio
Windows Media
RELATED ARTICLES
Russia's Gazprom Looks Ahead To A New Year
Azerbaijan: Coping With The Oil Windfall
Azerbaijan Boom Sparks Fears Of Dutch Disease
Kazakh President Tells West -- We Don't Need Your Advice
Could Turkmen President's Death Lead Instability?