The EU proposal, which has been harshly criticized by the Russian state-controlled gas monopoly Gazprom, would prevent energy-production firms from controlling distribution networks. It would also prevent foreign companies from investing in EU networks unless their home countries "reciprocate."
In February, Gazprom's deputy CEO Aleksandr Medvedev called the idea to force electricity and gas producers to part with their transmission networks "the most absurd idea in the history of the world economy." Gazprom has sought to acquire European gas-delivery networks, which as a gas producer it would not be allowed to control, under the new regulations.
But the EU, keen to boost competition in EU energy markets and wary of Gazprom's plans, says it is determined to forge ahead. And European calls for reciprocal access to energy markets have also rattled Russia, whose energy companies have a tight grip on domestic pipelines, electricity grids, and other infrastructure.
Russia Against 'Simplistic' Reciprocity
In an attempt to lower tensions, EU Energy Commissioner Andris Piebalgs met for talks in Brussels on October 16 with Russian Industry and Energy Minister Viktor Khristenko. Piebalgs announced the two sides would set up an expert panel to study the impact of the EU's efforts to establish a unified energy policy.
Khristenko, for his part, stressed that neither the Soviet Union nor Russia has failed to honor an energy-supply contract in Europe for the past 43 years. He said Russia shares the EU's belief that electricity markets must be liberalized, but he argued that the gas market is fundamentally different and must not be subjected to the same reform blueprint. This, he explained, is because the gas market depends on longer-term investment, which leads to higher risk in an inflexible sector.
Khristenko welcomed the creation of the new expert group, while also giving the impression that he believes it may result in changes to the legislation proposed by the European Commission. "We are in this context extremely interested in ensuring that the new consultation mechanism for the new initiative will work, so that we could professionally and pragmatically discuss not only the political aspects, but the risks that may arise, and understand whether there are problems," Khristenko said. "And if there are, how we will jointly react to them, and responsibly find the best way to reach the desired goal -- a high level of energy security and the dependability of supplies and distribution."
Speaking out against what he called "simplistic" efforts to reach reciprocity in EU-Russian energy relations, Khristenko referred to the EU's efforts to persuade Russia to ratify and implement an Energy Charter that would give foreign companies access to its gas and oil pipelines and give investors the same legal guarantees as in the West.
The minister claimed that according to Russia's calculations, EU investment in Russia's energy sector totals 55-58 billion euros ($78-82 billion), whereas Russia has been held to investment of just 7-8 billion euros in Europe. He also reassured his Brussels host that Russia would have no problems meeting its energy supply obligations this winter -- discounting unforeseen hiccups in transit countries.
Piebalgs said the EU will continue to seek alternative energy suppliers.
An OPEC For Natural Gas?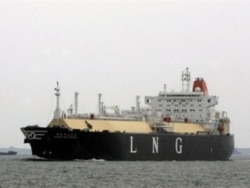 A tanker carries liquified natural gas to markets in Asia (AFP)

COMING TOGETHER? PFC energy analyst Nikos Tsafos and RFE/RL energy analyst Roman Kupchinsky discussed with an RFE/RL briefing what the likelihood is of a natural-gas-producers consortium being formed and what such an organization might look like.
LISTEN
Listen to the entire briefing (about 70 minutes):

Real Audio
Windows Media
RELATED ARTICLES
Vision Of Global Gas Cartel Gains Clarity
Putin To Take His Message To The Persian Gulf
Iranian Politicians Support Establishment Of Natural-Gas Cartel
'Gas OPEC' Moves Closer To Becoming Reality