Editor's Detention Raises Azerbaijan Media Fears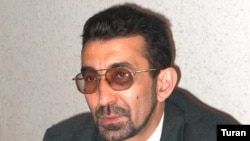 Genimet Zahidov (Turan) November 13, 2007 (RFE/RL) -- Azerbaijan has imprisoned its third journalist in the past month, adding to its reputation as the leading jailer of journalists in Europe and Central Asia.
Qanimat Zahidov, an editor for the opposition daily "Azadliq" and vocal critic of President Ilham Aliyev's regime, was sentenced and sent to pretrial detention on November 11.

He will spend two months in detention in the Azerbaijani capital as he awaits trial on charges of "hooliganism" and inflicting "minor bodily harm." If found guilty of both charges, he could face up to six years in prison.

Critics have said Zahidov's case is part of a campaign against independent media in Azerbaijan. International rights groups say that journalists are regularly pressured by the authorities. Nine journalists are currently in prison in the country.

Attack
Zahidov was reportedly arrested on November 10 following an incident involving a man and a woman near his newspaper's office in Baku. Local newspapers described Zahidov as the victim of an attack, which he fended off, but complaints were filed against him.

Zahidov was arrested after entering a police station on November 10 to report the attack, according to a press release issued on November 12 by the international Committee to Protect Journalists (CPJ).

"Police invited Zahidov in as a victim of an attack, but two hours after his arrival he became a suspect and was arrested," the journalism watchdog quoted Emin Huseynov, director of the Baku-based Institute for Reporters Freedom and Safety (IRFS), as saying. "They kept Zahidov for nine hours and interrogated him without his lawyer present."

CPJ Executive Director Joel Simon called on prosecutors to drop all charges in the case, saying: "We are greatly disturbed by the actions of the Azerbaijani authorities, who use spurious charges to gag opposition journalists."

Concern
U.S. Ambassador to Azerbaijan Ann Derse said the next day that Baku's treatment of independent media hinders its development as a "truly democratic state."

"This apparent campaign against the press only weakens Azerbaijan, and weakens, damages its image in the eyes of the world," Derse said. "So I'm sure that the many patriotic Azerbaijanis that I've met, who believe in their country's future and want to see it develop as a truly strong, truly independent, truly modern, and truly democratic state will join the United States in calling for this to stop."

Zahidov has had numerous run-ins with the government in recent months. Economy Minister Heydar Babayev in September filed a defamation suit against the editor in relation to an article he wrote for "Azadliq." A second lawsuit was filed against Zahidov in October by the deputy chief of the state traffic police, also in relation to an article that appeared in the newspaper.

Zahidov's brother Mirza Sakit Zahidov, a well-known satirist, is currently in prison on drug-possession charges that are widely considered to be fabricated. He was sentenced in October 2006 to three years' imprisonment.

Most recently, on October 30, an 8 1/2-year jail sentence for terrorism, inciting ethnic hatred, and tax evasion was handed down to Eynulla Fatullayev, editor of the publications "Gyundelik Azerbaycan" and "Realny Azerbaijan." Both newspapers routinely reported and condemned official corruption.