Litvinenko's friends and relatives gathered in the British capital today to reiterate their conviction that the Russian government is behind the killing.
Litvinenko's wife, Marina, and father-in-law, Walter, began the day by returning to the London hospital where Litvinenko died on November 23, 2006, three weeks after ingesting polonium-210 slipped into a cup of tea.
Together with Alex Goldfarb and exiled businessman Boris Berezovsky -- both acquaintances of Litvinenko's -- they reread the letter they say the former security officer wrote on his deathbed, blaming the Kremlin for his death.
At a subsequent press conference, Marina Litvinenko made a personal plea for the case to be resolved. "It is still a very personal case for me," she said. "I lost my husband, and what I'd like, I want to know who is behind the killing of my husband. And not just me. I'm not alone. I know many people -- my friends, relatives, and just ordinary people -- who would like to know who is behind the killing of my husband; who is responsible."
Litvinenko, who received British citizenship in 2006, had been a vocal critic of the Kremlin, accusing it, among other things, of orchestrating a series of apartment-block bombings in Moscow and other cities.
Both he and his survivors believe his death was the Kremlin's revenge for his scandalous allegations.
Demand For Justice
Louise Christian, a lawyer for the Litvinenko family, today confirmed a case against the Russian government was being filed at the European Court of Human Rights.
"We've made a complaint on Marina's behalf of complicity or connivance by the Russian Federation in the murder of Aleksandr Litvinenko," Christian said. "That is contrary to Article 2 of the European Convention, which is the most important right under the European Convention because it is the right to life."
Christian also called on Russian and British authorities to push for the primary suspect in the case, Andrei Lugovoi, to be brought to justice. British prosecutors announced murder charges against the former KGB agent in May.
Russian authorities have refused to extradite or even question Lugovoi, who is running for a seat in the Russian State Duma on December 2.
During a news conference of his own in the Russian city of Kursk, Lugovoi today alleged that British special services were involved in Litvinenko's death, and he said any new evidence in the case would be simply "fabrication."
The Litvinenko legal team today stepped up its case against Russia, with Christian saying a private researcher hired by the family claimed to have located the source of the deadly polonium -- the Avangard Electromechanical Plant, a former nuclear-weapon-assembly facility located in the closed city of Sarov, in Nizhny Novgorod Oblast.
"He concludes that it is highly likely that the polonium-210 came from the Avangard plant, which is controlled by the Russian state, and he says that -- and I am quoting from him -- '[It is] almost certain, therefore, that the Russian government was involved in supplying the polonium used to murder Aleksandr Litvinenko,'" Christian said.
If Strasbourg judges agree with the complaint against Moscow, Russia could face expulsion from the 47-member Council of Europe.
The Kremlin's Fallen Foes
The Kremlin's Fallen Foes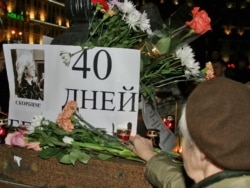 Mourners in Moscow mark the 40th day after the killing of investigative journalist Anna Politkovsksya on November 15 (TASS)

DANGEROUS DISSENT. A surprising number of vocal critics of the policies of Russian President Vladimir Putin have been killed or have died mysteriously in recent years. Although the Russian government has denied any involvement in any of the cases, some Kremlin watchers have begun speaking of a clandestine campaign to eliminate dissent.
April 17, 2003: Sergei Yushenkov, veteran liberal politician, Duma member, and leader of a staunchly anti-Kremlin party, is shot dead in Moscow.
July 3, 2003: Yury Shchekochikhin , liberal lawmaker and investigative journalist, dies of a mysterious allergic reaction. Many believe it was a case of deliberate poisoning, but the incident was never investigated as a murder.
February 13, 2004: Former acting Chechen President Zelimkhan Yandarbiyev is killed in an explosion in Doha, Qatar. Two Russian security-service agents are later convicted of carrying out the killing.
September 2, 2004: Investigative journalist Anna Politkovskaya falls ill mysteriously on a plane bound for the North Caucasus. Politkovskaya was heading to Beslan, North Ossetia, in a bid to negotiate the release of schoolchildren being held hostage there by Chechen militants.
December 2004: Former Ukrainian Prime Minister Viktor Yushchenko , running for president as a pro-Western candidate against Prime Minister Viktor Yanukovych, is poisoned. He recovers and goes on to win the presidency, although his poisoning remains a mystery.
October 7, 2006: Investigative journalist and vocal critic of Russian policies in the North Caucasus Anna Politkovskaya is gunned down in Moscow.
November 23, 2006: Former Federal Security Service agent Aleksandr Litvinenko, a vocal critic of Russia's secret services, dies of a mysterious poisoning in London.
CHRONOLOGY
An annotated timeline
of high-profile killings in Russia since the collapse of the Soviet Union.
SUBSCRIBE
For news and analysis on Russia by e-mail,
subscribe to "RFE/RL Russia Report."