Litvinenko, a former Russian security officer and fierce Kremlin critic, had fallen ill and was laid up in a London hospital. His health was deteriorating rapidly. Gordiyevsky, a former KGB officer who defected to Britain in the 1980s, says Litvinenko suspected foul play.

"He phoned me from the hospital and informed me of the circumstances. He said that he felt very poorly. Very, very poorly," Gordiyevsky recalls. "I said: 'what has happened? How did it happen? You must be poisoned.' And he said, 'Yes, it looks like I am poisoned.'"

Less than two weeks later, Litvinenko was dead from a lethal dose of highly radioactive polonium-210. On his deathbed, he accused Russian President Vladimir Putin of being personally responsible.

Moscow-London Chill
Today marks the first anniversary of Litvinenko's death, an event that roiled Britain's Russian emigre community, caused an enduring chill in Russian-British relations, and deepened the West's suspicion of Moscow. It also led to a climate of fear among Kremlin critics.
Litvinenko's widow Marina has confirmed that she will file suit with the European Court of Human Rights to force the Russian authorities to take responsibility for her husband's death. She joined Litvinenko's friends and family today for a vigil outside the University College Hospital in London, where Litvinenko died.
The Litvinenko legal team said today that a private researcher hired by the family claimed to have located the source of the deadly polonium -- the Avangard Electromechanical Plant, a former nuclear-weapon-assembly facility located in the closed city of Sarov, in the Nizhny Novgorod region.
Litvinenko fled Russia in 2000 after claiming that the Federal Security Service, the main KGB successor, was behind the deadly September 1999 apartment-building bombings in Moscow and other cities. He became a British citizen in October 2006.

Longtime Russia-watcher Edward Lucas, the deputy international editor of "The Economist," calls Litvinenko's death -- which many have called the assassination of a British citizen on British soil by foreign agents -- a "game-changing event" that significantly altered Russia's relations with the West.
"I think that the Kremlin lost its last threads of trustworthiness and credibility in the eyes of at least some Westerners who were prepared to give it the benefit of the doubt until then," Lucas says. "This was something that was so alarming, and so dangerous, and so brazenly rude as well."

British prosecutors announced in May that they were charging Russian businessman and former KGB agent Andrei Lugovoi with killing Litvinenko by spiking his tea with polonium-210 in a London hotel on November 1.

Extradition Refusal
Moscow, citing a constitutional prohibition, has refused to extradite Lugovoi -- who is now running for a seat in the State Duma and has been treated as a hero in Russia.

As a result of Russia's refusal to hand over top suspect Lugovoi, Britain in July expelled four Russian diplomats, sparking the tit-for-tat expulsion of four British diplomats from Moscow.

For his part, Lugovoi has alleged that Litvinenko was probably an agent with Britain's MI6, and said his death was "useful" to the British establishment, which had long sought to "humble and discredit Russia."
"Britain's MI6, always invisibly involved in this scandal, has done and will continue to do all it can to sideline an objective investigation," Lugovoi told reporters in Moscow earlier this month.
Moscow has repeatedly and strenuously denied any involvement in Litvinenko's death. Kremlin spokesman Dmitry Peskov has called suggestions of Russian involvement "pure nonsense."

The Kremlin's denials, however, have been met with widespread skepticism in the West.

David Satter, author of "Darkness At Dawn: The Rise Of The Russian Criminal State," says the Kremlin's reaction to Litvinenko's killing and those of other critics have fueled suspicion.

"Even if we argue, hypothetically, that the highest authorities are not responsible for these killings," Satter says, "they are definitely responsible for the way in which they have responded to these killings -- in the most callous and contemptuous way possible, with thinly disguised satisfaction over the death of their opponents."

Politkovskaya Death
Litvinenko's death came less than two months after another Kremlin critic -- journalist Anna Politkovskaya of "Novaya gazeta," who wrote extensively about human-rights abuses in Chechnya -- was shot dead in her Moscow apartment building on October 7, 2006.

Lucas says that as a journalist he has noticed that in the aftermath of Politkovskaya's and Litvinenko's deaths, his contacts in Russia are becoming more reluctant to criticize the regime openly.

"It is more difficult now to get Russians to talk critically on the record about what is going on, and that's a pity," Lucas says. "And I would say it is not quite as bad as Belarus, but I think twice before phoning someone up who I don't know and talking on their main phone line."

And Satter says he believes this was precisely the message the Kremlin was trying to send.

"It does appear that elements in the Russian leadership are issuing a thinly veiled warning to real and potential critics of the regime that they may resort to these methods under certain circumstances," Satter says. "Under these circumstances, of course, it's clear that the level of security for anyone who is critical of Russia or who in some way crosses the Russian authorities, is not what it should be and even not what it was. And this is to a certain extent an aftermath of the Litvinenko case."
Former world chess champion and opposition leader Garry Kasparov, for example, has said that he only consumes food and drinks prepared by people he knows and trusts.
The jitters that followed the March 2007 shooting of Paul Joyal, an American security consultant specializing in Russian affairs, were indicative of the new climate of fear that followed the Litvinenko killing.

Joyal was shot and wounded outside his home in Maryland days after he said in a televised interview that Litvinenko's death was a warning to all critics of the Putin government. Joyal's shooting initially sparked speculation might be a Litvinenko-style hit in the United States.

"The fact that people were even considering the possibility [of Russian involvement] is itself an indication of how the atmosphere has changed," Satter says.

Police determined that the shooting was a simple case of street crime, but Lucas says that given the circumstances, it was disturbing nonetheless.

"I think people were quite alarmed when Paul Joyal got shot," he says. "It's not quite clear whether that was just street crime or something more sinister. But my feeling is that Politkovskaya was a warning to Russians; Litvinenko was a warning to emigres; and there is yet to be a warning to Westerners who say nasty things about Russia -- but I think it will come."
In Depth
Litvinenko Timeline

From poisoned tea to an international incident. How the events unfolded.

more

Case On Film

This year, the Cannes Film Festival screened "Rebellion: The Litvinenko Case," a documentary by Andrei Nekrasov.

more
Facts About Polonium-210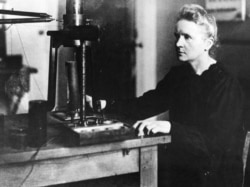 Marie Curie at work in 1925 (AFP)
Polonium, also called "radium F," was discovered by Marie Curie and her husband, Pierre Curie, in 1898 and was later named after Marie's homeland of Poland (Latin: Polonia).
It is an alpha emitter, meaning that although it is highly radioactive, it cannot penetrate human skin or a sheet of paper. Washing eliminates traces.
Contact with a carrier's sweat or urine could lead to exposure. But polonium-210 must be ingested or inhaled to cause damage.
Polonium-210 has a relatively short half-life of 138 days.
Polonium-210 occurs naturally in the environment (it is found in such things as dirt and tobacco) and in people at low concentrations. But acquiring a lethal amount would require individuals with expertise and connections.
Polonium-210 emits 5,000 times more alpha particles than radium, and an amount the size of the period at the end of this sentence would contain about 3,400 times the lethal dose. A dose like the one that killed former Russian spy Aleksandr Litvinenko would probably have been manufactured at a nuclear facility.
Russia exports 8 grams of polonium-210 monthly, all of it to the United States. Exports to Britain ended about five years ago.