The statement announcing the suspension on the website of the Russian Foreign Ministry was terse. "The treaty, signed at the time of the Cold War, has ceased to respond to modern European realities and to meet our security interests," it said in part.
It said that "furthermore, [NATO member states] have taken a number of steps that are incompatible with the spirit and the letter of the treaty."
Those statements only slightly rephrased Putin's own words on April 26, when he warned in his annual address to the nation that Moscow might take this step.
"It is time our partners made their own contribution to the reduction of armaments, by deeds, not words," Putin said. "Instead, they keep building up their armaments. It's time for them to contribute to armament reduction at least in Europe. I propose discussing this issue at the NATO-Russia Council, and if no progress is achieved in negotiations, I propose to consider discontinuing our obligations" under the CFE.
Putin subsequently decreed on July 14 that Moscow would suspend its participation in the treaty after a 150-day waiting period.
Security On Europe's 'Flanks'
The CFE Treaty, signed in 1990 by NATO and the then-Warsaw Pact, took 10 years to negotiate and is still considered the keystone of European security. It set limits on each bloc's deployment of weaponry between the Atlantic Ocean and the Urals and provided for regular mutual inspections.
But the accord has been in trouble ever since it was redrafted following the breakup of the Soviet Union. Negotiated in Istanbul in 1999 and dubbed CFE II, the new version has become a symbol of the troubled post-Cold War relation between the two sides.
Russia and three other states -- Ukraine, Kazakhstan, and Belarus -- ratified the new accord. But NATO members said they would refuse to do so until Moscow complied with commitments it made in Istanbul to remove troops and equipment from Moldova and Georgia.
Pavel Felgenhauer, a Moscow-based defense analyst and columnist for the Russian newspaper "Novaya gazeta," says the Istanbul commitments remain at the heart of the quarrel.
"The main sticking point now is Moldova, where Russia is adamantly refusing to withdraw its troops from the Transdniester region," Felgenhauer says. "And President Putin and other Russian officials have said that they do not recognize the right of the West to impose on Russia such limitations and basically do not want to withdraw their troops, and Moscow said they have a right to keep them there."
Speaking to RFE/RL in July, he said Moscow also would like to fully abandon limitations on weapons in so-called flank areas like the Caucasus.
It is on the "flanks" of the onetime NATO-Warsaw Pact front line in Europe that Moscow and the West today frequently find themselves in dispute. Moscow wants to maintain a strong influence over its post-Soviet neighborhood and Western policy rejects such a role.

Agreeing To Disagree
Washington is calling Moscow's decision to now suspend its participation in the CFE wrongheaded. Daniel Fried, the U.S. assistant secretary of state for European and Eurasian affairs, said on December 11 that the move is "regrettable."
He added, "it doesn't favor anyone's security interests and it's particularly unfortunate given the international and American efforts to address Russian concerns."
NATO issued a statement saying the allies deeply regret that Russia has proceeded with its intention to unilaterally "suspend" implementation of CFE Treaty obligations. Europe's main human rights and security watchdog, the Organization for Security and Cooperation in Europe, urged Russia to reconsider its freeze of a key Cold War arms treaty, saying the suspension could have an impact on European security.
It remains unclear where the confrontation goes from here, but diplomatic efforts are likely.
After the Federation Council, Russia's upper house of parliament, unanimously approved on November 16 Putin's decree, Foreign Minister Sergei Lavrov said: "We expect a reaction that would allow putting arms controls in Europe in order. This can be done only by adopting an agreement on adjusting the Conventional Forces in Europe Treaty and, in general, by modernizing what is a hopelessly outdated [arms control] regime."
Amid the dispute, both sides are stressing that it does not present any immediate threats to European security. Rather, analysts say, the quarrel underlines the increasing political estrangement between the West and the Kremlin, while leaving the military situation on the ground as it is.
Rose Gottemoeller, the director of the Carnegie Moscow Center and a former deputy undersecretary for defense nuclear proliferation in the U.S. Department of Energy, speaking to RFE/RL at the start of the new crisis in April, said there is little likelihood either side will jeopardize the current security balance.
"I think we have to remember that the whole relationship between Russia and NATO has been recast in these past 15 years," Gottemoeller said. "We haven't made as much progress as, certainly, I would have hoped. But nevertheless, we are far away from the circumstances of the Cold War."
Still, NATO's and Russia's political estrangement was much on display at their most recent meeting in Brussels on December 7.
RFE/RL's Brussels correspondent says the two sides expressed disagreements over nearly all major global issues, from the future of Kosovo to U.S. missile-defense plans in Eastern Europe. The only point of convergence between NATO and Russia, he says, was Afghanistan, where both sides agree the fight against international terrorism and drugs remains the key priority.
Conventional Forces In Europe
Conventional Forces In Europe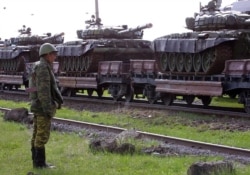 A Russian soldier watching Russian armaments leave Georgia in 2006 (epa)


AGREEMENTS ON CONVENTIONAL FORCES IN EUROPE. The CFE treaty is an arms-control agreement originally negotiated between NATO and the Warsaw Pact as a guarantor of European security in Europe in the waning days of the Cold War.

The original CFE Treaty took 10 years to negotiate, was signed by 30 states ** in November 1990, and came in to force in 1992. Its aim: to reduce stockpiles of conventional armaments between the Atlantic Ocean and the Ural mountains.
The blocs limited themselves to:
20,000 tanks
20,000 artillery pieces
30,000 armored combat vehicles
6,800 combat aircraft
2,000 attack helicopters

The CFE-1A, a 1992 addendum, has resulted in the withdrawal of more than 700,000 troops from Europe since 2001 and the destruction of 50,000 pieces of military equipment by 1995.
The CFE-II, negotiated in Istanbul in 1999, reflected the new, post-Soviet landscape by setting arms limits for individual countries, rather than zones. The agreement aided NATO's expansion efforts by allowing signatory states to allow foreign forces on their soil.
NATO states have not ratified the CFE-II due to concerns over Russia's failure to comply with commitments it made during the negotiations. Under the Istanbul Accords, Russia pledged to set a timetable for closing its remaining military bases in Georgia and to completely withdraw its forces from Moldova.
The CFE-II will come into force once ratified by all 30 CFE signatories. Thus far only Belarus, Kazakhstan, Russia, and Ukraine have ratified the CFE-II.
In ratifying the agreement in June 2004, Russia called on the signatories not to delay in ratifying the document. Russia expressed concern that Lithuania, Estonia, and Latvia, as nonmembers of the treaty, could possibly harbor NATO troops near its western border.
(** Armenia, Azerbaijan, Belarus, Belgium, Bulgaria, Canada, Czech Republic, Denmark, France, Georgia, Germany, Greece, Hungary, Iceland, Italy, Kazakhstan, Luxembourg, Moldova, the Netherlands, Norway, Poland, Portugal, Romania, Russia, Slovak Republic, Spain, Turkey, Ukraine, the United Kingdom, and the United States. )