RSF Warns Of Dangers To Journalists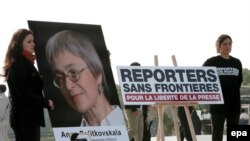 RSF activists in Paris highlight Anna Politkovskaya's death (epa) Reporters Without Borders (RSF) says in its latest annual report on press freedom that it remains a dangerous time to be a journalist in many countries around the world.
The Paris-based watchdog raises the alarm on issues ranging from journalists' safety in conflict zones, to censorship, to problems covering key elections in various countries.
It also says press-freedom surveys in every region of the world for the year 2007 suggest Western countries and top world bodies do too little to defend press freedom in many places.
The report notes that many governments in the post-Soviet region are unfriendly to the media.
Elsa Vidal, who heads the Europe and former USSR desk at Reporters Without Borders, told RFE/RL that the situation for journalists is poor across most countries of the former Soviet Union, and Russia itself is one example.
"What we have witnessed [in Russia] during the year 2007 is that much pressure was exerted on independent media with journalists being arrested during opposition demonstrations, independent newspapers being shut down, and some journalists being sent to psychiatric hospitals as punishments," Vidal says. "All these events seem to us to be very bad omens with the upcoming presidential election."
Journalists covering opposition protests were arrested in Moscow in the week before the December parliamentary elections. Security forces also exerted pressure on the editorial line of media outlets.
According to Reporters Without Borders, at least two journalists were sent to psychiatric hospitals during 2007 as punishment. The practice recalls a frequent Soviet tactic to discredit those with "undesirable" views and to discourage people from openly opposing the regime. The report also notes that little has been done to punish killers of journalists, those behind the murder of investigative journalist Anna Politkovskaya.
Vidal says that the situation is even worse in Belarus."Unfortunately, Belarus is [currently] a very good example of what [existed in] the Soviet Union in terms of repressions and censorship," Vidal says.
She says press freedom in the country is nonexistent and the situation did not improve in 2007. Official pressure is present in every aspect of the media, including government scrutiny of the Internet.

By contrast, life has become easier for media after the Orange Revolution in Ukraine. Political pressure on the media has decreased since President Viktor Yushchenko came to power in 2005, but polarization of the press and society does not make it easy to take an independent editorial stand. Vidal says Ukraine is still not an example of press freedom.
"Ukraine is not free of political pressure even if the situation is better, but I would say it is slightly better than in Russian for the year 2007," she says.
In Azerbaijan, meanwhile, independent and opposition media are under constant pressure from the regime.
Azerbaijan continued its crackdown on the media and treated journalists who exposed corruption among top officials as criminals, according to Reporters Without Borders. Heavy penalties for those who wrote "undesirable" articles had a dissuasive effect and President Ilham Aliyev ignored the many appeals from NGOs and international bodies such as the Organization for Security and Cooperation in Europe. The regime also broke off contact with Reporters Without Borders after harsh criticism from it.
The European Parliament's Human Rights Committee in August called the press-freedom situation in Azerbaijan "unacceptable."
The situation is bad in all the countries of Central Asia, according to Reporters Without Borders. However, Vidal says it would be not correct to say that the situation in all the Central Asian states is the same.
"Central Asian countries such as Kazakhstan, Kyrgyzstan, Tajikistan, for example, do not face the dramatic problems that Uzbek journalists have to deal with on a daily basis and they are nor faced with the problems which exist in such oppressive states as Turkmenistan," Vidal says.
She adds that the most oppressive and media-unfriendly states in the world are Eritrea, North Korea, and Turkmenistan.
Reporters Without Borders also accuses public officials around the world of "impotence, cowardice and duplicity" in defending freedom of expression.
Robert Menard, head of the Paris-based watchdog, says that "the lack of determination by democratic countries in defending the values they supposedly stand for is alarming."
Menard particularly targets the UN's Human Rights Council, which he claims has "caved in to pressure from countries such as Iran and Uzbekistan." He also blames the "softness" of the European Union toward dictators "who did not flinch at the threat of European sanctions."